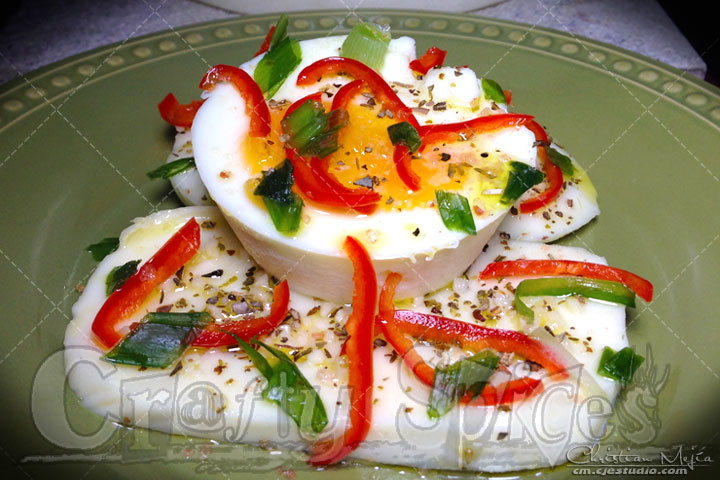 Here is yet another twist to the well known Caprese Salad, some would say it's not a caprese without the tomatoes but I beg to differ.
For me it's the concept and the taste that make a dish, and today's dish has plenty in common with the traditional caprese salad, so way not call it a caprese with a twist.
It's a tasty combination of mozzarella, eggs and spices.
Ready in:
5 minutes
| Serves:
1
| Complexity:
Very Easy
Ingredients
1-2 Poached eggs (we used a mold)

A few pieces of Fresh Mozzarella

1/4 tsp. Extra Virgin Olive Oil

1/4 tsp. Oregano (divided in 2)
1/8 tsp Pink salt

1/8 tsp Chopped Green Onions

1/8 tsp Minced Garlic

1/8 of small red pepper (thinly sliced)
Directions
Arrange a few pieces of Mozzarella side by side on a plate

Drizzle with EVOO, add garlic and 1/8 tsp oregano - spread

put egg(s) on top and add the remaining ingredients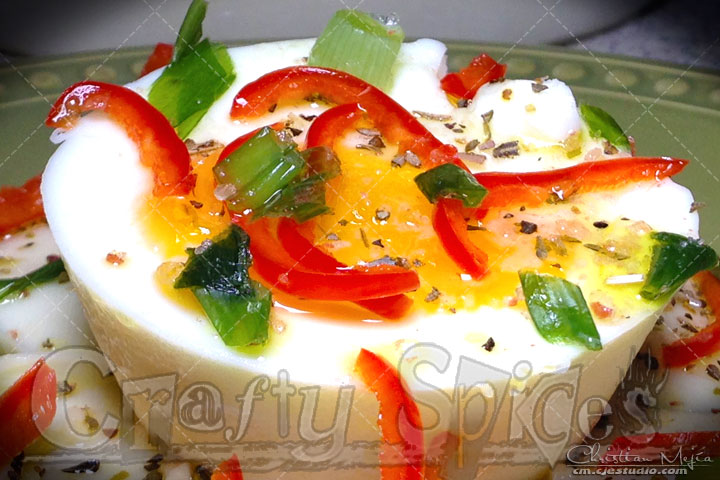 Server and enjoy!
Hope you like this
Caprese Salad, Eggs instead of tomato
great for many occations.

Have fun!
Hits: 5286