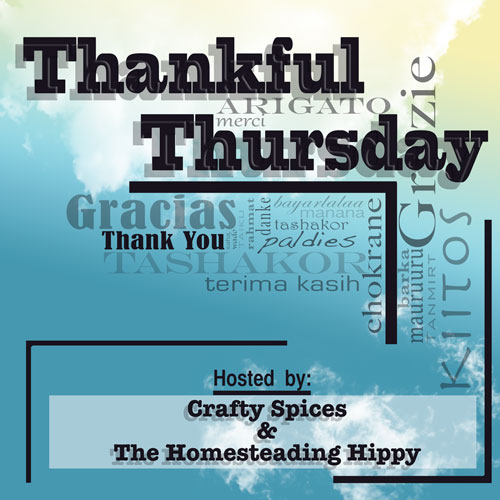 As promised we are here with another Thankful Thursday, my friend Heather form The Homesteading Hippy and I have come together to spread thankfulness every Thursday, hope you eventually join us.

First of all Happy Thanksgiving to you!

While we believe in giving thanks every day, today is the one day that many relate with being thankful. And yes most of the time there is plenty of food and drinks to go around. But what of does that are not as fortunate to have a meal in front of them not to imagine a delicious thanksgiving fest.
This is why today on Thanksgiving day, I would like to give thanks to all does people that volunteer at homeless shelters and food pantries.

Thank you for giving your time to the community and sharing a helping hand to does that really need one.

Thank you for caring for everyone the same way, for believing that we can all make a difference, for being strong for others and for the encouragement that you inspire.

For what are you thankful for?

And please remember that Thanksgiving is not just about the food, the turkey and desserts. It is more about being grateful and expressing it to others.
Join the Thankful Thursday
What are you thankful for today? come share with us.
You may help us spred the word about being thankful by tweeting about this event.
Tweet
Simple Rules
Be Thankful for something.
Write a post of what you are thankful for or share in our comment section.
Visit a few other thankful blogs.
Grab our Thankful Thursday button and place it somewhere in you site or thankful post. It would be greatly appreciated.
Please do not link to your main site, but directly to your Thankful Thursday Post.
Thank you for stopping by.
Hits: 4015