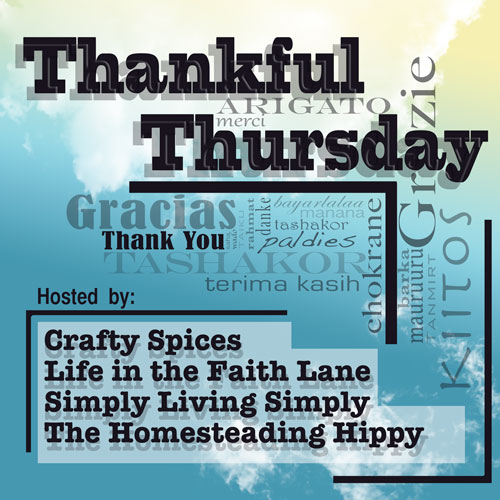 Thankful Thursday is here…
Did you notice that now we are hosted via 4 blogs! It's a great event. Yes, I called it a "Great Weekly Event" because it sure is good to be thankful. For the million and one things that we have or don't have. It's our pleasure be Featuring on: with Simply Living Simply, The Homesteading Hippy, and Life in the Faith Lane

Today we are being thankful for life, life of all things, what would be earth if no live creatures existed, what would be of us if only we existed, thankful for having animals, for the plants that decorate and bring life to our homes, our environment. Today we are thankful for that old man that seemed to be counting the days to his last yet you my Lord gave him life.
While today we are giving thanks for life, I recognize that it's not only about life, or all about life it is about . It is about living life to it's extent, about enjoy every moment that we live, being grateful for our surroundings as much as we are grateful for what we have.

Thank you for my life, and for the life of does whom I love. I am very grateful for all the wonderful living being that have touched my life at one point or another.

Live your life and be grateful and thankful for it!!!
Join the Thankful Thursday
What are you thankful for today? come share with us.
You may help us spred the word about being thankful by tweeting about this event.
Tweet
Simple Rules
Be Thankful for something.
Write a post of what you are thankful for or share in our comment section.
Visit a few other thankful blogs.
Grab our Thankful Thursday button and place it somewhere in you site or thankful post. It would be greatly appreciated.
Please do not link to your main site, but directly to your Thankful Thursday Post.
Thank you for stopping by.
Hits: 4663