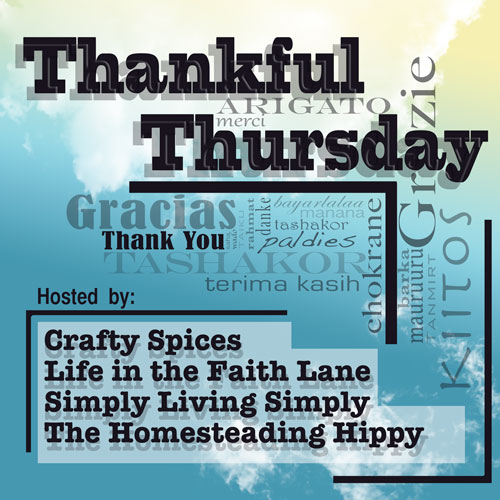 Thankful Thursday is here…
Hosted at 4 blogs!. it's great to be Thankful every day for everything that we have. It's our pleasure to Feature this event with: Simply Living Simply, The Homesteading Hippy, and Life in the Faith Lane

I am thankful for books, yes books all in general. There are many types of books and yet we can all learn something from each and every one of them. Through books we have pass from generation to generation so much knowledge, learned about different cultures, we have enjoyed a story, learned about our history, and much more...
So today I not only am thankful for books but I have to say thank you to all writers as without you we would not have books. I love to sit back and relax with a great book in hand, and I recognize that there are so many talented writers, many not recognized or appreciated as they should be, so if you are a writer please know that there are people like me that appreciate your talent and dedication to writing. We Love our books!!!

And I am so happy that it seems that our 2 daughters will also follow along, as they show great love for books at such an early age.
What are you Thankful for today??
Join the Thankful Thursday
We would love to know about you, share with us your thankful toughts by linking, and we will stop by.
You may help us spread the word about being thankful by tweeting about this event.
Tweet
Simple Rules
Be Thankful for something.
Write a post of what you are thankful for or share in our comment section.
Visit a few other thankful blogs.
Grab our Thankful Thursday button and place it somewhere in you site or thankful post. It would be greatly appreciated.
Please do not link to your main site, but directly to your Thankful Thursday Post.
Thank you for stopping by.
Hits: 4470