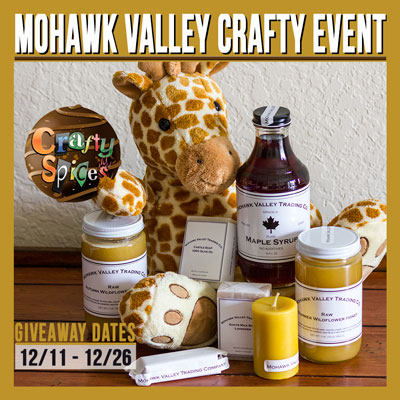 Today we are partnering with The Mohawk Valley Trading Company, if you have not heard of them you are for sure missing out on some great products. The offer the highest quality unprocessed natural products, such as maple syrup, honey, beeswax candles and natural personal care products.

Join us in spreading the word about this great company and offer to your readers the opportunity to win a great prize package.

This event is sponsored by Mohawk Valley Trading Company, one winner will be selected to receive a gran Prize Pack with ARV: $80.00 (One 16 oz. Glass Bottle of the Grade A, Robust, Dark, Pure Maple Syrup; One 1lb Glass Jar of Raw Summer Wildflower Honey; One 1lb Glass Jar of the Raw Autumn Wildflower Honey; One, 1.5" x 2.5" Beeswax Candles; One bars of Natural Handmade Castile Soap, & 1 Goat's Milk Lavender Soap). This giveaway will begin on December 11th and will end December 26th. Winner will be randomly selected from all verified valid entries. Winner will be notified via email, he or she will have 48 hours to respond, if not another winner will be selected.
Details:
With announcement each blogger receives 1 free link (Twitter or Facebook)
Additional Links can be purchased at $2 each. These links can be Facebook, Twitter, Instagram, Pinterest or any link as long as you provide (Social network name, user name and your direct link).
Co-host spots are available for $5 each. This includes 3 links on the giveaway event and a back link to your blog on the giveaway page. It also gives you the privilege to purchase additional links for just $1 each
The giveaway html will be sent out at least 2 days before the giveaway goes live and you should post before midnight the day the giveaway starts. We will not be sending out reminder emails to bloggers who forget to post and report link, we will just remove from the giveaway.

Payments:
Payments should be made as Gift via Paypal to cj [at] craftyspices [dot] com
Hope you will be a part of it!
Hits: 2730