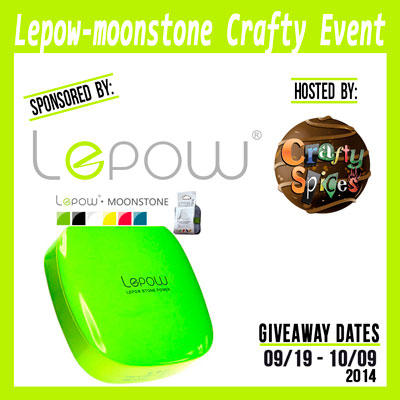 We have partnered with Lepow to bring you this bloggers opportunity, and could not be more happy about it. The Lepow MOONSTONE let's you charge your phone or tablet on the go anywhere you are, don't ever more run out of battery.

Join this event and for posting the accouncement you will receive a free link (Twitter or Facebook). Share and encourage your fans to join with you, the more the merrier. You are also welcome to participate in the giveaway.

This event is sponsored by the Lewpow, a global brand built upon one concept: "Make Technology More Enjoyable". One lucky winner will be selected to receive a Lepow MOONSTONE Portable Battery. This giveaway will begin September 19th and will end October 9th. Winner will be randomly selected from all valid and verified entries, he or she will be notified via email and will have 48 hours to respond, if not another winner will be selected.

For the details of this opportunity keep reading, or just get the HTML code and then scroll down to sing up.
Details:
With announcement each blogger receives 1 free link (Twitter or Facebook)
Additional Links can be purchased at $2 each. These links can be Facebook, Twitter, Instagram, Pinterest or any link as long as you provide (Social network name, user name and your direct link).
Co-host spots are available for $5 each. This includes a total of 3 links on the giveaway event and a back link to your blog on the giveaway page. It also gives you the privilege to purchase additional links for just $1 each
The giveaway html will be sent out at least a day before the giveaway goes live and you should post before midnight the day the giveaway starts. We will not be sending out reminder emails to bloggers who forget to post and report link, we will just make necessary changes.

Payments:
Payments should be made as Gift via Paypal to cj [at] craftyspices [dot] com
Hope you will be a part of it!
Hits: 5066