Dead Sea Salt Deep Hair Conditioner – Deeply Hydrating and Nourishing the Scalp & Hair
This is a Hair conditioner Made with Real Dead Sea Salt, 100% Pure and Genuine for an infusion of 21 skin and hair rebuilding Minerals such as magnesium, calcium, sulfur, bromide, iodine, sodium, zinc, potassium and others Essential to Proper Skin and Hair Function.
I have tried a number of Adovia products and to be honest there has not been one that I have not liked, one after another they have impressed me with the results. That being said I was already using the Dead Sea Mud Shampoo when the opportunity to try and review the Dead Sea Salt Conditioner was presented how could I refuse it.
Conditioner's Features (Courtesy of Adovia):

Made with Real Dead Sea Salt – 100% Pure and Genuine for an infusion of 21 Minerals Essential to Proper Skin and Hair Function.
Leaves Hair Looking Hydrated, Healthy and Silky.
Helps to Reduce the appearance of Dandruff and Dry, Flaky Scalp.
Aloe Vera Deeply Nourishes the Scalp and Hair – Hydrating it from Within.
They SELL OUT FAST – Get it soon before we run out again. We try to produce this item as fast as we can.


No matter what shampoo or conditioner I use it seems that after a while I have to change them up as my hair seems to just get use to it and then it tends not to absorb all the nutrient and does not show off it's natural beauty, I have been using the Dead Sea Mud Shampoo for a number weeks and I love how my hair feels adding the Dead Sea Salt Deep Hair Conditioner has just improved my believe in the Dead Sea wonders.
I have curly and very high porous hair so I tend to blow-dry it and/or use the hair iron to straiten it out and remove the extra humidity that it hold so it would not seem frizzy. When using the Dead Sea Mud Shampoo and the Dead Sea Salt Conditioner together even if let it air dry, my hair does not become or seem frizzy, that is a plus and a must for me to say that hair products is good.
The combination of using these 2 products have left my hair looking very healthy, hydrated, with a nice shine and a soft feel. The now know secrets are the Dead Sea Mud and the Dead Sea Salt, I believe that these elements make all the difference in bringing out the natural beauty of the hair. And it's not like we are doing some science project, it's as simple as washing the hair, rinsing it off, adding a small amount of conditioner, letting it do it's thing for a few minutes, and rinsing it off. By the way for both of these product I only use a small amount and that does the job.
The Company and Purchasing Information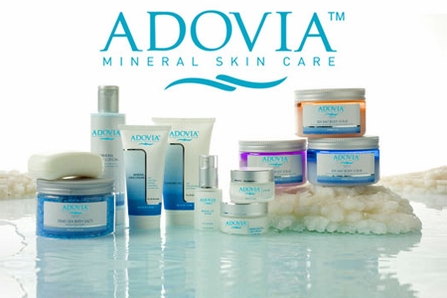 All Adovia (As of this post) are made in Israel with Genuine Dead Sea Minerals as the key ingredient. They offer unique formulas based on the power of the minerals found in the Dead Sea and some specific natural botanical ingredients, mainly from the earth.
Some of the ingredients incorporated in their natural combinations are Dead Sea Salt, Mud and Minerals, Aloe Vera, Shea Butter, Vitamins C, A and E, Seaweed, and others. A great place to purchase Adovia products is
Amazon.com
Disclosure: I received one or more of the products mentioned above for free using Tomoson.com. Regardless, I only recommend products or services I use personally and believe will be good for my readers. For our full disclosure and PR Info Click Here.
Hits: 4932