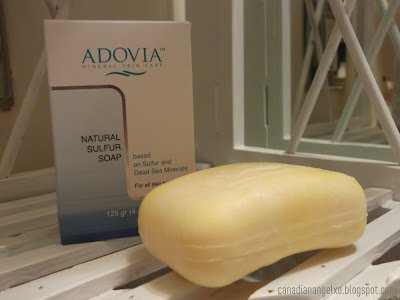 The Adovia Sulfur Soap is new to me, while about a year ago I tried my first Adovia product, and after that, I have been using a number of Cleopatra's Choice products. Yet it was not until recently that we had the opportunity to try this soap.
Per it's description this soap while it contains 3% sulfur it is highly enriched with minerals and sulfur from the Dead Sea, contains antibacterial and Aloe vera extract. It is said to cleanse the face and body leaving it gentle and smooth to the touch, while balancing and optimizing the natural oils and moisture of the skin.
I was intrigue by it's content and was happy to give it a try and see how well it would do in eliminating blackheads and reducing the amount of oil that my face generates.
My experience with the Adovia Sulfur Soap with Dead Sea Salt has been a positive one without extreme results. The first time I used it, right afterwards I notice my skin was very soft but nothing else. After using the Sulfur soap ones a day for a few weeks I can actually see my pores are much cleaner yet it does not feel dry. It's like this soap keeps everything balance and under control.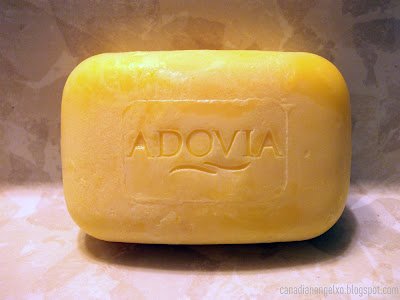 I like how this is a simple 100% Natural Soap one that while being used helps in so many ways, it's a way to keep breakouts from happening while not having to have a long lasting face treatment routine.
The Company and Purchasing Information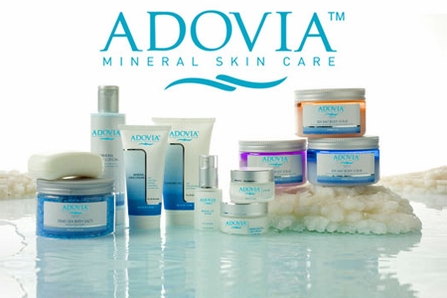 Adovia products by Cleopatra's Choice, as of this post are made in Israel with Genuine Dead Sea Minerals as the key ingredient. They offer a unique formula promoting healing by the power of the mineral in the Dead Sea and natural botanical ingredients mainly form the earth. To learn more follow Cleopatras Choice via:
Website
//
Facebook
//
Twitter
Some of the ingredients incorporated in their natural combinations are Dead Sea Salt, Mud and Minerals, Aloe Vera, Shea Butter, Vitamins C, A and E, Seaweed, and others. A place to purchase Adovia products is
Amazon
Disclosure: I received one or more of the products mentioned above for free using Tomoson.com. Regardless, I only recommend products or services I use personally and believe will be good for my readers. For our full disclosure and PR Info Click Here.
Hits: 12856