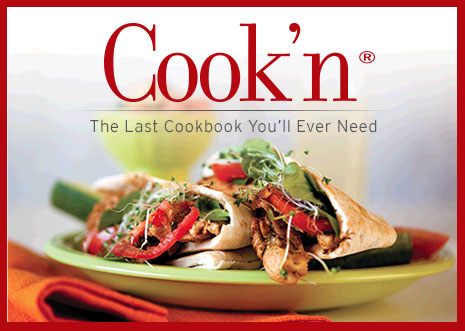 Computers are taking over our life... As much as I hate to admit it, they do make our life simpler while at the same time people expect and or ask for 5 times more of each and everyone of us (since we now have a computer to "help"). While you and me may not think twice to use our laptop or tablet to lookup a recipe, others may think we are crazy for bringing these gadgets (if they can still be called this) into our kitchens the place where we prepare our meal. And yet they do make things easier and with every day advancements things are just getting started.

When I saw the opportunity to have a place to organize my recipes and not have so many around the house, here and there I was all for it. I will admit that I then became a bit skeptical of having to download another software and who knows what problems it may cause, etc, etc, etc. Good thing, I am not one to give up that easly...
I visited the
Cook'n Recipe Organizer
Site and I watch a few of the very informative videos that they have and could not believe my eyes as to how simple they were presenting the process and the program to be, and then I just had to take my chances.
Sure enough, it is as simple as 1, 2 and 3. I downloaded the installation zip file in less than a minute and the installation was so simple that I think my 4 year old could have done it.

Here is the simple, powerful and stylish software and app.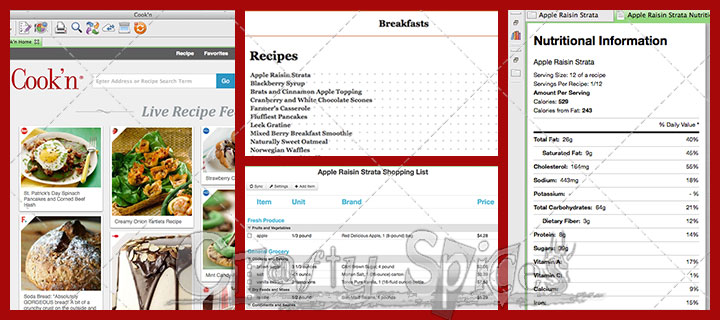 Answer these questions:
You love the kitchen?
Love to cook?
Like to bake?


Do you enjoy easy and quick meals ?
Do you like to serve healthy meal to your family?
Do you have a passion for tasty things?
If you said yes to any of the above questions, chances are that you have a ton of recipes either in flash cards, papers, magazines or recipe books. Maybe you have tried to organize them in a shoe box (I was not far from that), or maybe you just keep going back and forward from recipe sites you love. Regardless, Cook'n Recipe Organizer, Version 11 would help and save you time searching for your favorite recipes (yours or from others) and even serves as inspiration to create some of your own.
Since Cook'n has an integrated browser with a search engine specially design for recipes you can search the web without leaving the software and then save it directly on to you database.
Getting your recipes organized is awesome, and yet this program provides much more that only organization; it has a built in menu planner (and ideas), it auto-generates shopping list, you can scan or snip a recipe from the web, includes a nutrition guide, share to social medias directly, and many other things. Could it get any better…
It would be nice if we can have the option to view the cookbooks and recipes graphically with images, just as it features the live Feeds showing pictures of each recipe and not only text (a list). Other great features in the Cook'n Recipe Organizer are: you can change the amount of servings and it will re-calculate all quantities; you can create or download eCookbooks with minimum effort, and tag your favorite recipes; and you can use the cloud to sync all your devices and manage your recipes wherever you are.
In overall a great Recipe Organizer, now if you would like to win your very own join us in the Rafflecopter below and you may just be selected.
Besides their main
Site
, you can find Cook'n on
Facebook
and on
Pinterest
.

Win It:
Follow the rules on the Rafflecopter to enter for a chance to win. One lucky winners will be selected to receive the awesome Cook's Recipe Organizer Software. This contest is open to all U.S. residents age 18 and over, void where prohibited. The winner will be notified via email, he or she will have 48 hours to respond, if no reply another winner will be selected.

Good Luck.

Current Giveaway embedded Code:
Disclosure: I received one or more of the products mentioned above for free using Tomoson.com. Regardless, I only recommend products or services I use personally and believe will be good for my readers. For our full disclosure and PR Info Click Here.
Hits: 6168