We are fascinated with Mighty Leaf Tea and it's products, we love the vast variety of teas that they offer. And while they do offer both loose and bagged tea, as of today I have only tried their bagged blends, but have no doubt that their loose tea is of the same high quality and of great taste as all their bagged ones.
The pouches of the Mighty Leaf tea bags are made of silk allowing the pouch to expand and not tear when it is submerge in water.
I like very much the Tea Top Brew Mug and use it quite a bit, yet I am one to drink my tea not very hot so in that sense it works well for me, because it does not keep the tea hot for a very long time, also I have gone out with it, cranked my tea and then want another tea but if I use this mug with a non Mighty Leaf Tea pouch going through the tea-top hole the pouch will rip when pulled via the lid.
I can have a cup of tea in the morning, headed out the door, in the afternoon or just before bed time. The time and my mood have a strong influence as to which tea I prefer.
I have liked all the teas that I have tried from Mighty Leaf Tea, but today we will be talking specifically of the 3 teas that we mentioned above, and this is what I have to say:
Ginger Twist: I don't know how they came up with this blend but it has become one of my favorite go to teas after a late dinner, it helps me with a good digestion. I also love to have a cup of this tea when I am feeling congested, making me more relaxed and the aroma seems to calm down my alergies.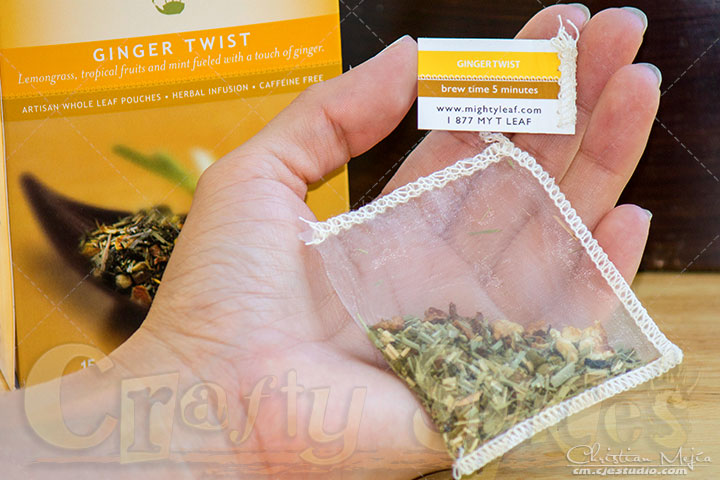 White Orchard: This tea has a perfectly balanced taste, the melon and peach work great together with no bitterness or aftertaste, making it good for any time of the day. The blend creates a wonderful aroma that I like. I really enjoy this tea while on the go.
Organic Detox Infusion: This is a tea that may not be for everyone, since it does has an acquired taste. Has a nice minty flavor which I love and also has a small bitter aftertaste that some may not find appealing. I on the other hand enjoy it and like the aftertaste. If I get un upset stomach or have eaten to much, I tend to make a cup of this tea as it seems to have a calming effect to my stomach. Not to mention I really enjoy it's scent.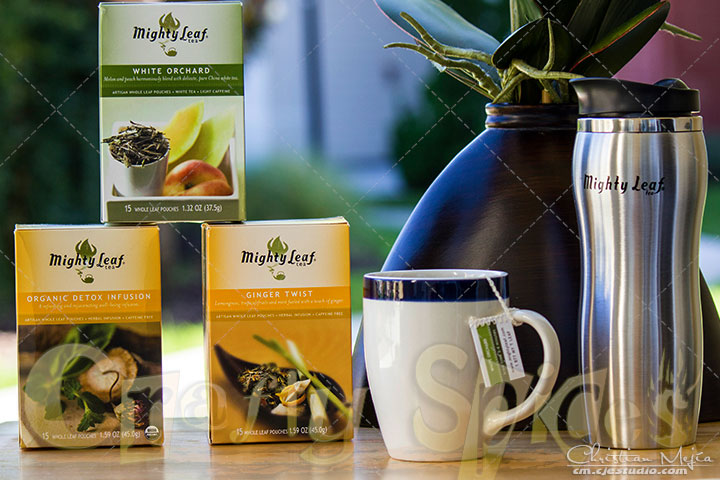 Pros: The Mighty Leaf Teas, one of the best packed Tea blends that I have tried, small fabric pouch which does not allow disintegration or easy rips.
Tea Top Brew Mug, great for tea on the go, easy top lid to avoid over-brewed tea, you just pull up and drink away.
Cons: Mighty Leaf Tea, I have no cons to say about the tea pouches, I actually love every one that I have tried.
Top Brew Mug, It does not keep Tea hot for a long time, it can only be used with Mighty Leaf Teas as other brands tend to rip when pulled via the tea-top lid.
Our final thoughts: Mighty Leaf Tea is a winner! Has a great variety of Tea blends and I will for sure be a loyal costumer. The Tea Top Brew Mug my on the go best companion.

The Company and Purchasing Information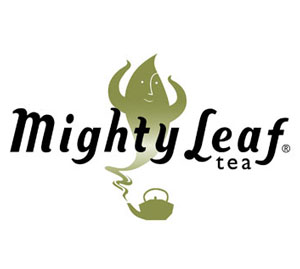 Mighty Leaf Tea
was founded by a team of husband and wife (Gary Shinner and Jill Portman) back in 1996 from their combine passion of creating exquisite Tea blends.
To find more information about Mighty Leaf Tea visit them:
Website
//
Facebook
//
Twitter
//
Pinterest
//
Instagram
To Purchase Mighty Leaf Tea or their awesome products via their
Web
or find your closest retailer
Here
Army Wife & Mommy