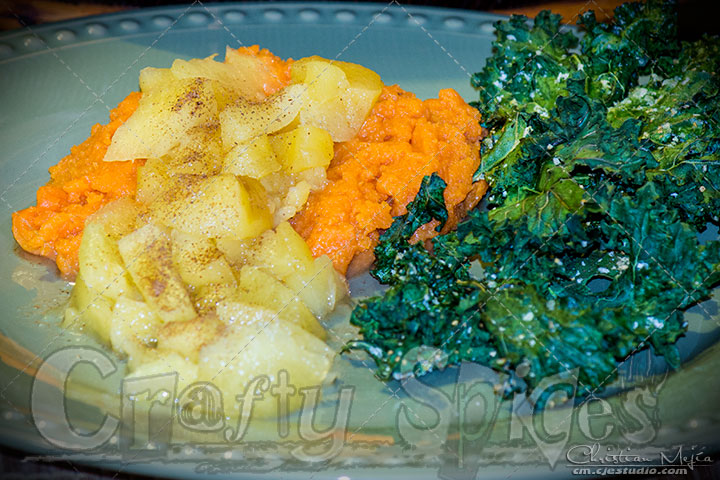 I love Sweet potatoes, luckily they are very healthy, and a good option for anytime meals. There are endless possibilities with sweet potatoes, the most simple one being raw sweet potato chips, and going on from there.

While yellow potatoes may be the most common potatoes, Sweet Potatoes health benefits far exceed the nutritional value found in white and yellow potatoes. Sweet Potatoes contain almost twice as much fiber, they are rich in vitamins: A, B6, C, D and E, are very high in potassium, contain iron and are a good source of magnesium, why not eat them.
Today we are happy to be featuring a very healthy recipe: Oven roasted Mash Sweet Potatoes topped with Apple - Pineapple Chutney, and serve with Kale Chips
Ready in:
72 minutes (50 SweetP + 12 Apple-Pin + 10 Kale Chips)
| Complexity:
Easy
Ingredients
Sweet Potatoes:

4 Large Sweet Potatoes

Kale Chips:

Hand full of Kale

1 1/2 tbsp Extra-virgin olive oil (EVOO)

1 tsp Garlic salt

1 tsp Parmesan cheese (optional)
Apple - Pineapple Chutney:

4 medium size apples

tbs Powder Cinnamon

1 1/2 cup water

1 cup pineapple juice

2 slices of pineapple

1 cinnamon stick
Directions
Sweet Potatoes:

Preheat oven to 350 degrees Fahrenheit (180 C)

Wash sweet potatoes and dry them as best as possible.

poke holes with a fork all over the potatoes and place on oven rack

Bake for 45 minutes or until they feel soft all the way through

Let them cool down, cut in half and remove sweet potato mea with a fork, discard skin

Plate and set aside (mash sweet potato)


Apple - Pineapple Chutney:


Wash, peel, and core apples

Place a small pot over medium-high heat add water, cinnamon stick, pineapple juice and apples

Let simmer for a about 4 minutes or untill apples start to feel soft

Meanwhile cube pineapple slices, then add them to the pot and simmer for 2 more minutes

Serve over plated sweet potatos


Kale Chips:

Preheat oven to 350 degrees Fahrenheit (180 C)

Wash Kale thoroughly with cold water, then pat dry

Remove leaves and discard stems

Rub EVOO all over Kale leaves

Sprinkle with garlic salt

Arrange over ungreased baking sheet

Bake for about 8 minutes, or until chips are very crispy

Plate Chip next to Sweet potatoes
This is it for our healthy Meal:
Sweet potato topped with Apple - pineapple chutney, and Kale Chips
Enjoy and have fun!!
Hits: 7892