Considering that June and July are internationaly (June in the USA, but in other contries it is in July) known to be Fathers Month, Philips Avent invited us to try and review the Philips Avent DECT Baby Monitor with Temperature Sensor and talk about how it can be daddy's best friend when he is taking care of our girls.
A few new features got us exited about this baby Monitor, so how can we refuse the offer. As soon as we received the Baby Monitor we opened it and were ready to put it to the test.
Dad's like to know what is going on!!
Product Description:
Philips Avent DECT Baby Monitor with Temperature Sensor
From the Manufacturer:
Advanced monitoring system with temperature sensor and vibration alert, a Baby Monitor that delivers complete reassurance, providing the most reliable connection combined with soothing features, such as night light and lullabies, vibration alert and docking station for the parent unit. While your baby is safe and well, you as a parent can experience a new level of comfort.
The DECT technology guarantees zero interference from any other transmitting product like other baby monitors, cordless phones and cell phones, it also provides high quality, crystal clear sound so you can hear your baby anytime.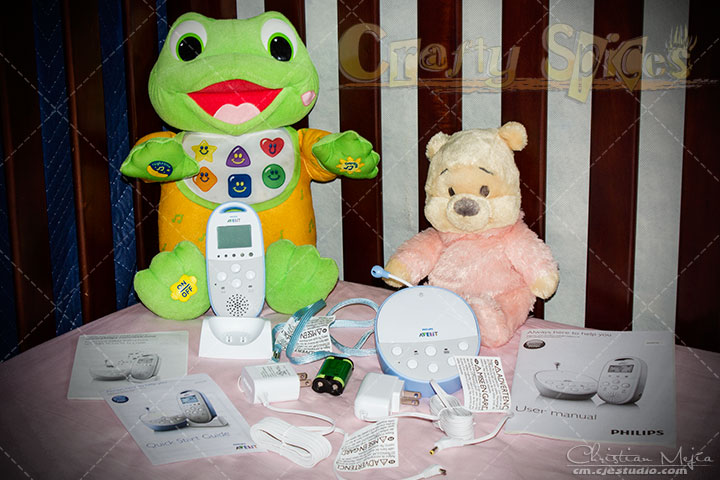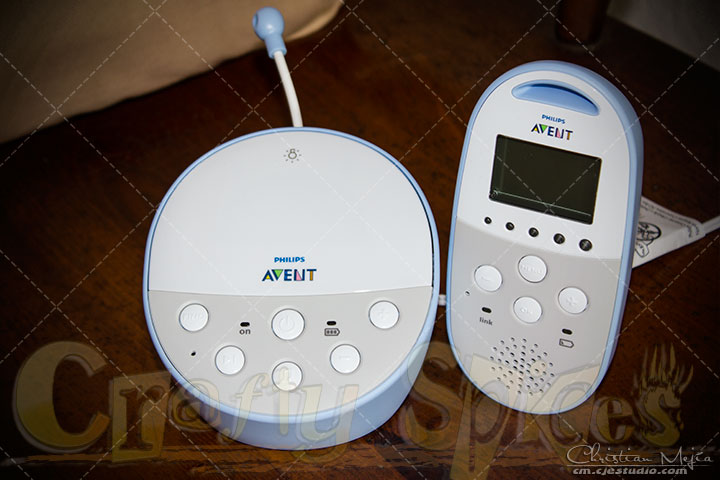 A customized temperature sensor allows you to monitor the climate in baby's room, immediately alerting you, through the digital display on the parent unit, if the climate changes, as your baby cannot regulate her body temperature as well as you can and will get restless even with a slight change in temperature.
It includes sound activated lights to indicate the level of sounds in baby's room, a rechargeable wireless unit that with a comfortable deck cord so you can move around the house, a docking station that allows you to recharge the parent unit, and an alert on the parent unit when power is low or if you're out of range.
Key Features:
Zero Interference and Private Connection
DECT technology guarantees zero interference and 100% privacy

Complete Comfort
Monitor the temperature in the baby's room
Night light and multiple lullabies
Stay connected with talk back
Crystal Clear Sound
Reassurance with crystal clear sound
LEDs light to signal noise levels

Range up to 330 meters
Always know that you are connected
Rechargeable wireless parent unit

Our Experience and opinion:
Now days it's hard to imagine our life without a baby monitor for our litle ones, we as parents want to know as soon as our baby wakes up, or if for whatever reason he or she is uncomfortable.
Baby monitors have come a long way since they first started coming out, the Philips Avent DECT SCD570 Baby Monitor with Temperature Sensor is a great way to feel connected to your child while he/she is in his/her bedroom and you are elsewhere in the house.
With both our girls with have used a number of baby monitors from very simple ones, to some very sophisticated video baby monitors, and I have to say that even though there have been a few that we have liked, we have always found that there is room for improvement. While we like most of the features of the The Philips Avent DECT SCD570 Baby Monitor with Temperature Sensor this monitor is no exception to this rule.
My favorite feature on this baby monitor is the ability to talk back to our baby, I really love that ones I set my baby to sleep if she is fussing for no reason I can always calm her down by talking to her via the parent unit and reassuring her that mammy is right here, soon enough she is fast-asleep. Dad agrees with me, and enjoys not having to go back and forward to the babies room, to calm her down.
Dad's are a big part of a child's life, in our house Dad often takes our girls to bed he now takes advantage of the night light and selects one of the 5 relaxing tunes to help calm our baby down to sleep. He appreciates the long range that the monitor has, he can go all the way to the porch and still get excellent signal to hear and monitor our little girl.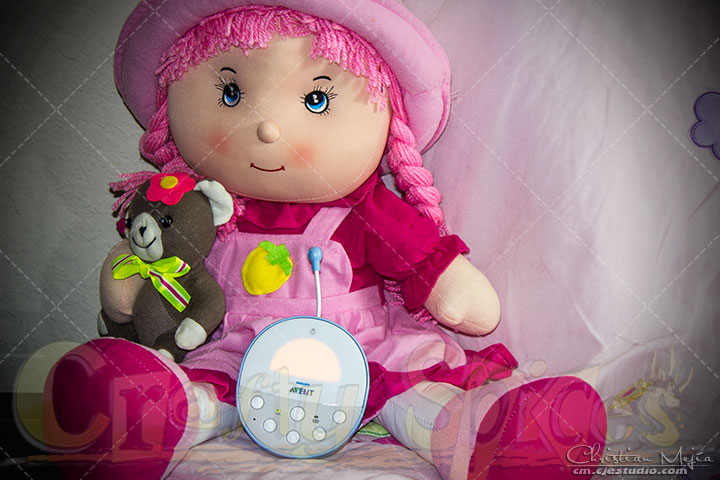 The parent unit is very easy to carry around and has a good size not to be in the way, it would be useful if from this unit it was possible to control the light and lullaby music of the stationary unit (baby unit). The parent unit does however beside the menu button, that offers options such as adjusting sensitivity, cry Alert, feed timer, and others; also has some useful buttons like: the talk to baby button (our favorite) and volume control.
Pros: The baby unit could be used with batteries or connected to a power outlet, baby unit has a night light and 5 different lullabies, can talk to baby from the parent unit, excellent range and very clear sound.
Cons: Has only one parent unit, no light or music control form parent unit.
Our final thoughts: It's a great sound only baby monitor, that has many features that other baby monitors do not offer. Not to mention has clear sound with excellent range and 2 way communication.

The Company and Purchasing Information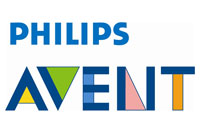 Royal Philips
of the Netherlands is a diversified technology company, focused on improving people's lives through meaningful innovation in the areas of Healthcare, Consumer Lifestyle and Lighting
This and other Philips Avent product are sold by many retailers, for a list visit their
Website
you may also learn more by following Philips Avent via: //
Facebook
//
Twitter
//
Pinterest

Win It:
Follow the rules on the Rafflecopter and enter for a chance to win Philips Avent DECT Baby Monitor with Temperature Sensor. This contest is open to all U.S. and Canada residents age 18 and over, void where prohibited. The winner will be notified via email, he or she will have 48 hours to respond before another winner is selected.

Good Luck.
Current Giveaway embedded Code:
{xtypo_sticky}
Disclosure:
No monetary compensation was given for this post. I received a product to facilitate this review. All opinions are 100% my own and may not reflect those of others or yourself. All entries will be verified. For our full disclosure and PR Info
Click Here
.{/xtypo_sticky}