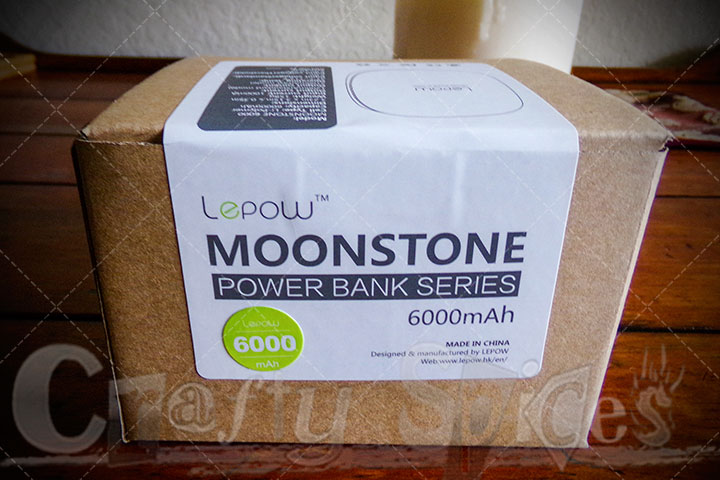 Now days it seems like even the youngsters carry not only smartphones but a number of devices that need to be frequently charges to be able to function properly.
A few years back the technology of storing power was developed and ever since it's been evolving into smaller devices that now not only are distribute to larger companies but to every day consumers. Allowing each and every one of us to be able to charge any device on the go.
Product Description:


The Lepow Moonstone 6000 is a small stylish square device with rounded corners. The device has a glossy plastic shell, and it is available in 5 different colors (White, Yellow, Black, Red and Green).
On one side it has printed the word Lepow in large print and in smaller print "Lepow stone power"; on the other side there is a single button and 4-LED indicators. By pressing this button it will indicated the level of charge currently retained in the Moonstone. The package come with a felt pouch that folds, has two pockets to carry the power bank in one side and the usb cable in another. Also comes with a small bag with extras that we will be mentioning below.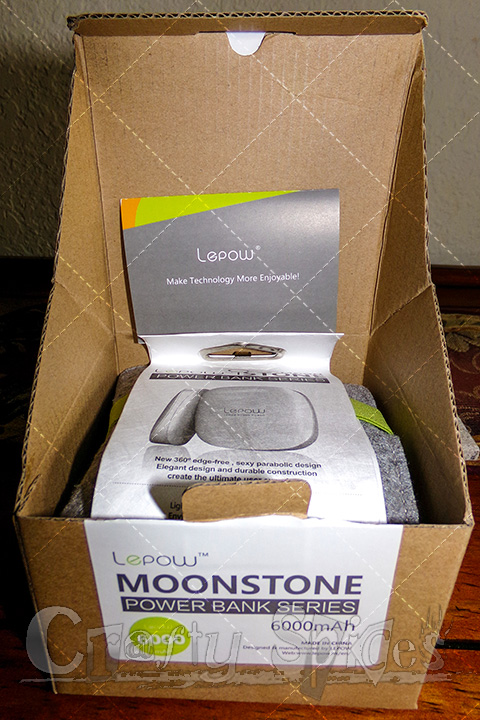 Our Experience:


We received a Lepow Moonstone in the color Green for review, it came in a creative, environmentally friendly box with a number of goodies that I was not expecting. As we open the box, the first thing out of the box was a social connect card to get regular updates from Lepow products, followed by the two pocket felt-like carrying bag, that had Lepow-Moonstone information and a tag with the color of our Moonstone, hold together by an elastic band.
We opened the felt pouch to find the Lepow Moonstone in one side and a flat micro USB cable on the other side with the product manual, which I really don't think that we would be needing, yet it's good that Lepow includes one in it's pack.
Before we took a closer look at the Lepow Moonstone 6000 Power bank and put it to the test by charging one of our device, I just had to check out everything that was included in this cool box. We looked farther into the eco-friendly box and took out a small black canvas draw bag that seemed to be filled with goodies.
As much as I love cool gadgets and new devices. I am always fascinated when they bring small little goodies that either make us smile or simplify our life in one way or another. So I was again excited to see what was inside.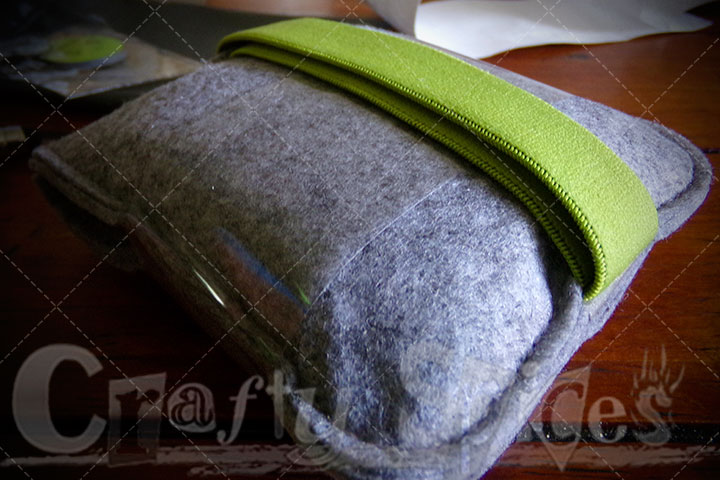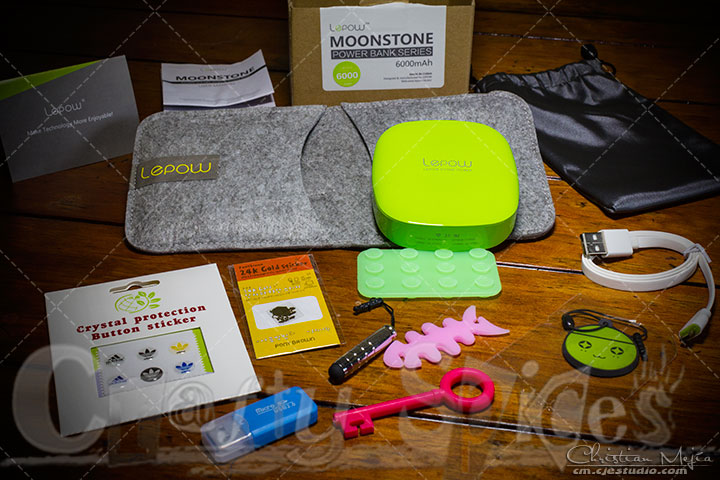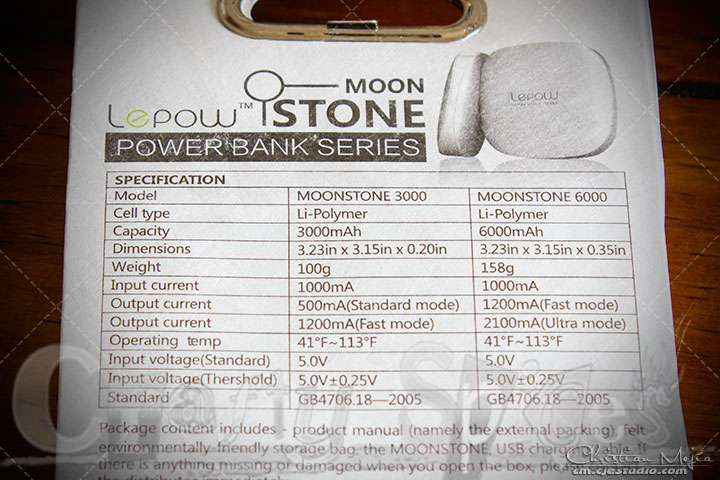 The black canvas bag contained a number of items such as:
A colorful micro SD to USB 2.0 adapter
A rubber double sided suction bed to hold in place the Moonstone and avoid surface sloping.
A mini stylus - 1.75"
One small Gold plated sticker
6 Button stickers
A fish cord wrapper, great to store earphones
A key cord keeper
You may see our video below that can give you a better view and perspective about what the Lepow MOONSTONE is and what does the little cute box brings.
After measuring the charge on the Lepow MOONSTONE by pressing the little button on the back side and noticing that did come fully charged, we connected our iPhone to charge and it took about 1 and 1/2 hours to reach 100%.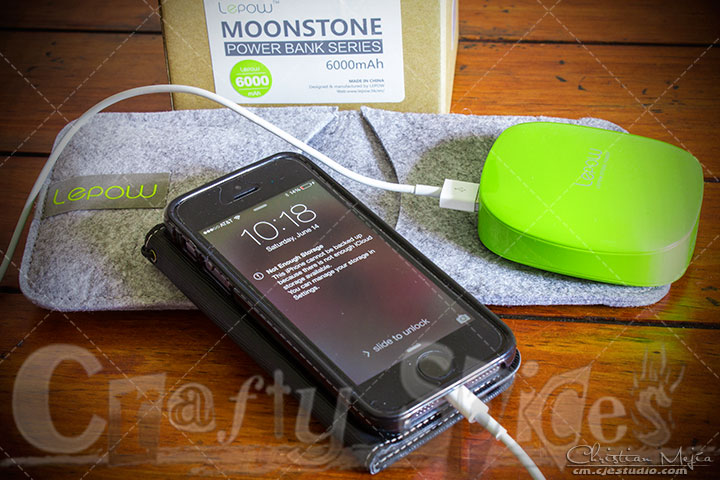 iPhone being charged with the Lepow MOONSTONE 6000mAh
To re-charge the Moonstone it took about 7 hours which I thought it was a long time but then again I just left it overnight and that solved the problem.

A great way to keep your devices charged on the go!

The Company and Purchasing Information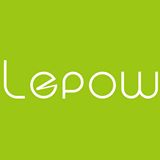 Lepow is a start up company in San Francisco with a base in Hong Kong and they make pretty unique electronic accessories such as external batteries and Bluetooth speakers.
To learn more about Lepow and it's products visit / follow /or purchase via:
Website // Facebook // Twitter // Instagram // Amazon

Win It:
Follow the rules on the Rafflecopter and enter for a chance to win your very own Lepow MOONSTONE 6000aMh. This contest is open to all U.S. and Canada residents age 18 and over, void where prohibited. The winner will be notified via email, he or she will have 48 hours to respond, if not another winner will be selected.
{xtypo_sticky}
Disclosure:
No monetary compensation was given for this post. I received a product to facilitate this review. All opinions are 100% my own and may not reflect those of others or yourself. All entries will be verified. For our full disclosure and PR Info
Click Here
.{/xtypo_sticky}