The box says they are perfect for mirrors, windshields, whiteboards, glass windows, art projects, ceramics and more. I still had my reservation, but I like to try things for myself even if I end up cleaning the mess. I have to admit "I was wrong" as a matter of fact, one of the thing that I like the most about the Liquid Chalkers is that they are not messy at all and are easy to wipe off. The company writes that you just have to use a wet cloth or tissue but in reality the liquid chalkers may even erase or come off with a dry cloth or even your hands (Been there, done that).
They are really simple to use, per the instruction we had to shake them, then depress the tip until the ink flows into the tip (we only had to do this the first time), then we were ready to use it and have been using it since then without no issues. And like I said before the best part is they are super easy to wipe off, so much that our 2 year old has taken the task all by herself and managed to leave a perfectly clean surface after having a long message or drawing printed with the liquid chalkers.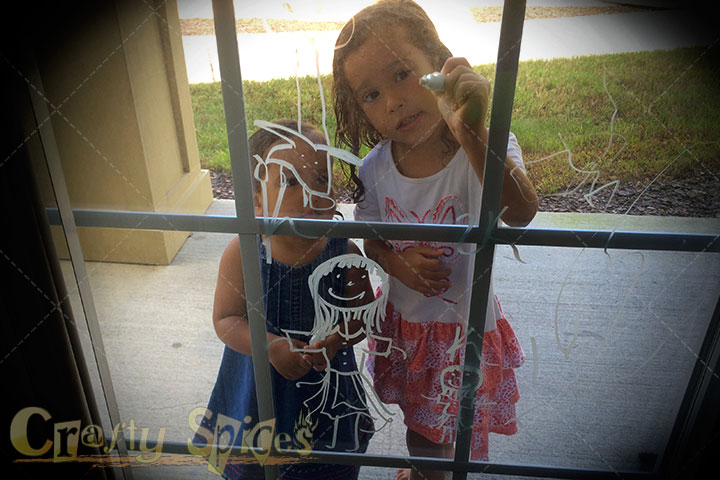 As a precaution we have always tested the surface we would be using, but just as the box indicates these liquid chalkers work really good on most non-porous surfaces, as of today on all that we have tried.
Not only are the girls using, loving, and having a great time with the the liquid chalkers, but I myself have left a few messages here and there using the liquid Chalkers for all members of the family, that being said they really come in handy. I like that they flow perfectly and dry very quick, not allowing time to smear down or to create smudges. Our only complain is that one of the 4 chalkers came with a fussy tips and for that reason it did not work properly. The 3 others were fine.
Why bother looking for paper and pen to leave a note, oh and not even know where to place the note when we can grab a liquid chalker and write the note exactly where you know it will be seen and most likely to make more sense than in the kitchen counter.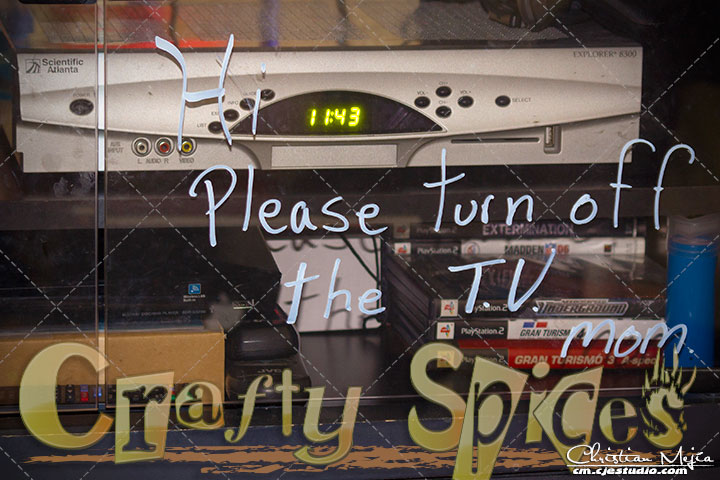 And when it's play time inside or outside the girls are rapid to grab a liquid chalked and write on the glass door, mirror knowing they can wipe it off and make changes as they go, drawing has become one of the girls favorite activities and the Liquid Chalkers have been a great addition to our family FUN time.
We received the white liquid chalkers, since then I have found out that they also come in different colors witch would make drawing and play time for any little one so even more fun.

Purchasing Information and how to Connect
The "Liquid Chalkers" are available to purchase:
Here in White
and
Here in Color
order them and you enjoy the fun for yourself.
If you would like to learn more about Liquid Chalkers, connect with them via Facebook or Twitter.
Let them know you come from CraftySpices
{xtypo_sticky}
Disclosure:
No monetary compensation was given for this post. I received free products that facilitated this review. All opinions are 100% my own and may not reflect those of others or yourself. For our full disclosure and PR Info
Click Here
.{/xtypo_sticky}