In the morning once we have taken the kids to school is our time to go for a 1/2 hour jog. That's why when we were selected to do this review we were happy since we were getting tired of carrying our iPhones in the hand or in the pocket of our shorts. This meant that now we could listen to our music and use de pedometer app.
IPhone 5 Armband - (Pro Athlete Quality) for active people!
Product Features:
MUV-ProBand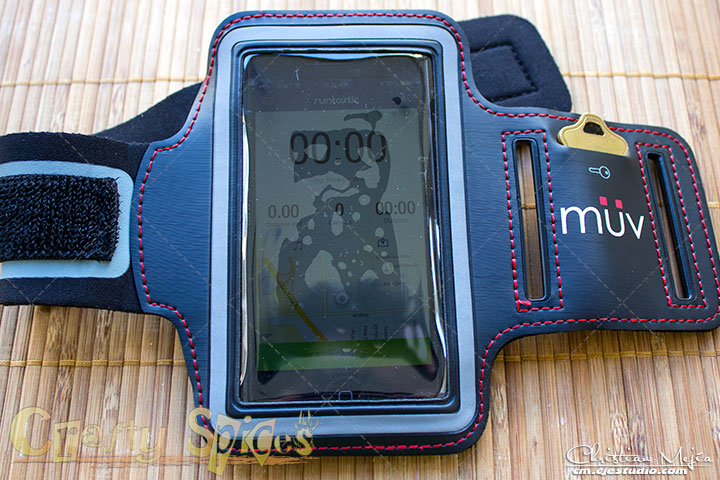 - Superior velcro that remains intact, even in the most rigorous of workouts
- All openings are reinforced, making them tear-resistant
- Ultra soft and light-weight neoprene ensures full comfort; it will not scratch or hurt your skin
- Completely sweat resistant so it is usable in any condition, and it prevents your iPhone from being damaged
- Touch screen protector is slim and highly sensitive, so you can use your touch screen with no hassle
- The high-visibility reflector allows you to run or exercise anywhere at any time
- Superior Red Stitching provides durability and style, making it unlike any other armband in the market
- High Quality Velcro ensures that it does not slip off your arm while exercising
- Tough yet slim and highly sensitive screen cover along with the reinforced openings make the armband Completely Sweat Resistant
- 4 Openings at the back of the armband plus Key Holder allow for Ultimate Convenience

Our Experience and opinion: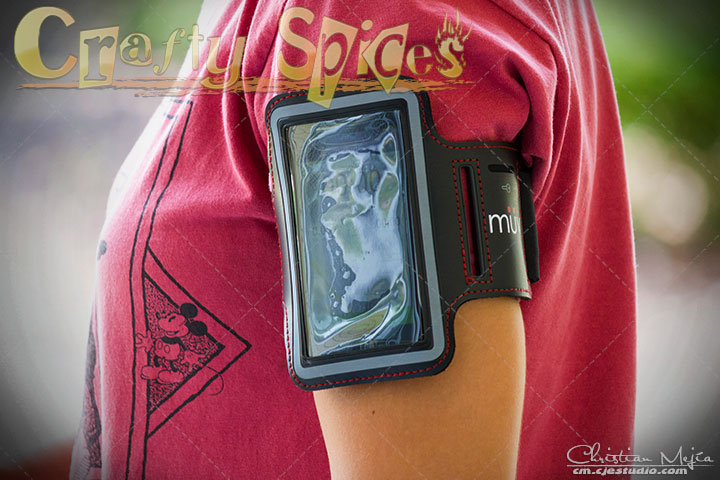 My iPhone 5S fits well and snug, although I had to remove my case to insert it into the pocket. The armband itself has a stylish design, It is very lightweight and made of fairly thin durable, breathable and quick drying material so it doesn't bother when running strapped to the arm. It is stitched with red over black neoprene. It is also water resistance, so sweating will not cause much problems.

The key hole is a bit in the small size and will only fit a key with no keychain. I did have to remove my key from the keychain in order to put it on the key sleeve. I was a little worried that the key might fall out, but it hasn't happen so far. It has 4 holes- 2 in top and 2 on bottom for threading your wires and to allow the use of the audio jack port for mp3 usage wile running.

I was able to easily navigate and use my iPhone touch screen through the clear plastic touch screen protector on the armband without any problems. Although I fined that in a bright sunny day it is difficult to see the screen at times. Around the screen there is a High Visibility Reflector that bounces the light allowing for drivers to better spot you while running outdoors at night.

The MU-Pro Athlete Band fits my arm very comfortably and it doesn't slip or slide down while wearing it for my long runs. I like that it has a long strip of velcro to adjust it to any size, so if any one else in my family wants to use it they can adjusted to their need.

Sweat Proof: well so far so god, my iPhone 5 has been kept protected and dry, although in my last run 3.5 miles I did get very sweaty, the inside stayed dry but there was some condensation on the screen. If it rains, it will probably keep rain off the phone but there are wide opening on the back so I worry that if one get soaked with water, the phone may get wet also.

MUV offers lifetime Warranty.
Pros:
Affordable
Stylish and well build
Moisture protection
Comfortable and Adjustable strap
Lifetime Warranty
Cons:
You may get some condensation between the iPhone screen and the plastic protector
My final Thoughts: This is a good high quality armband made with soft and quick drying material, that fits very well and comfortably while working out.

Purchasing Information
The "IPhone 5 Armband - Pro Athlete Quality from MuvUSA" is available to purchase:
HERE
{xtypo_sticky}
Disclosure:
I received one or more of the products mentioned above for free using
Tomoson.com
. Regardless, I only recommend products or services I use personally and believe will be good for my readers. For our full disclosure and PR Info
Click Here
.{/xtypo_sticky}