The Ozeri 3X Tower Fan has a modern and chick design, the tower is in a glossy black with gray accents, it sits in a black round glass base stand, it is only 3" deep so is very slim, it looks more like a high end speaker than a fan. It has a beautiful blue indigo light at the lower part off the tower to indicate when powered on. It has a slim form factor that integrates well with a modern digital décor.
At the top of the unit there is a touch pad to control the fan speed and options, with an auto dimming feature that reduces brightness of the LED screen after two minutes of inactivity. The 3x Tower fan is engineered with 3 independently controllable fans, it can oscillate 90 degree, and features a 7.5 hour timer that can be programmed in 30 minute increments.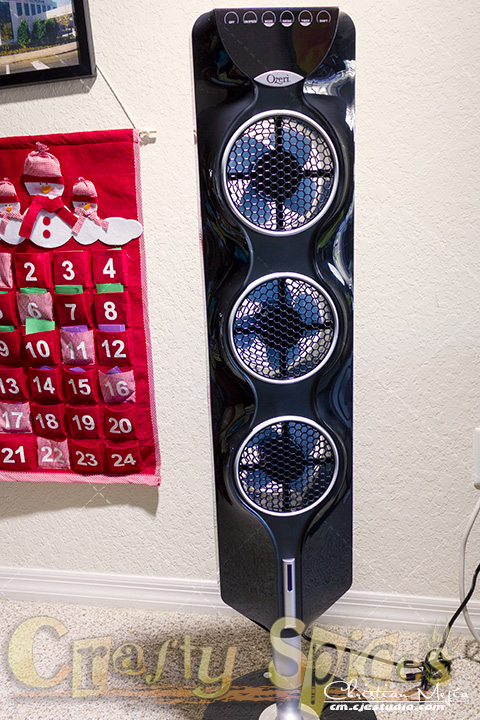 Specifications and Features:
Official Description.
Upgraded with canted fan blades that utilize the physics of blade curvature to generate opposing sound waves to reduce blade noise and isolate the soothing sounds of the airflow itself.
Boasting unrivalled technology, the 3x Tower fan is engineered with 3 independently controllable fans and 3 fan speeds, offering up to 9 levels of cooling and customized airflow.
Defining the latest in stylistic innovation and digital decor, the 3x Tower fan is among the world's thinnest fans at less than 3 inches thick and boasts a visually arresting design with an elegant reinforced glass base stand.
Features 3 preprogrammed airflow patterns designed to foster sleep, relaxation and comfort with 90 degree whisper-quiet oscillation for optimal air circulation.
Extended range remote control and the touch sensitive LED control panel provide easy access to all features, including a 7.5 hour timer that can be programmed in 30 minute increments.
Package includes:
1) Ozeri 3x Tower Fan // 2) 1 Control remote // 3) 1 user manual
Our Experience and Review:
The Ozeri 3X Tower Fan is very easy to assemble with just one-step that take you less than a minute. There are only two parts involved in the assembly, so you simply need to attach the tower through the base and secure it with a plastic bolt.
The Front LED indicators of the touch control panel on the fan make it easy to read, turn it on / off, change settings and use all the features of the Ozeri 3X. There are many settings you can control, including which of the 3 fans to run or how many fans run simultaneously.
On the top area right behind the digital control there is a hand grasp area where one can grip the tower to move it around.
The Ozeri 3X remote is very simple but functional, it has a rectangular shape and it is thin, and small; the unit has a space on the back to hold the remote when not in use.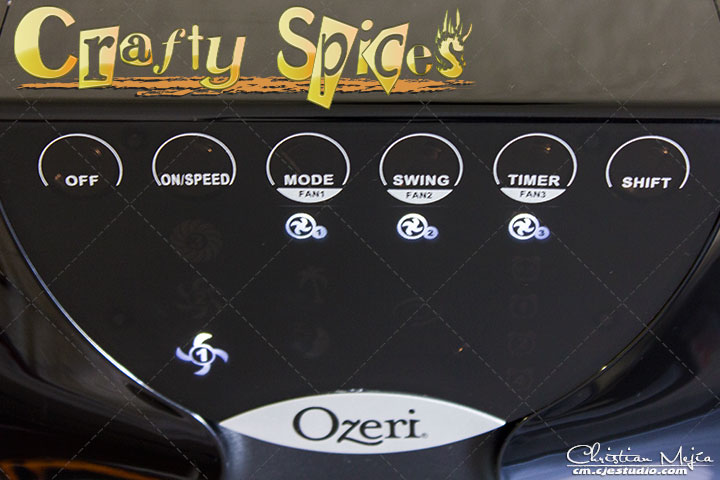 Ozeri 3X Tower Fan touch display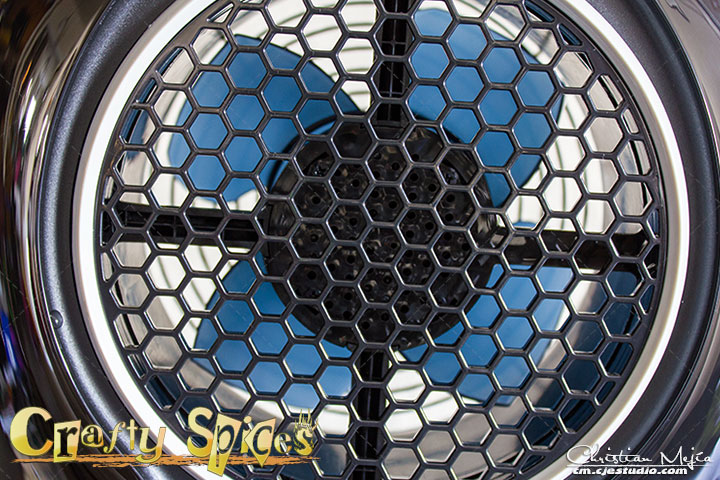 Close up: Ozeri 3X Tower Fan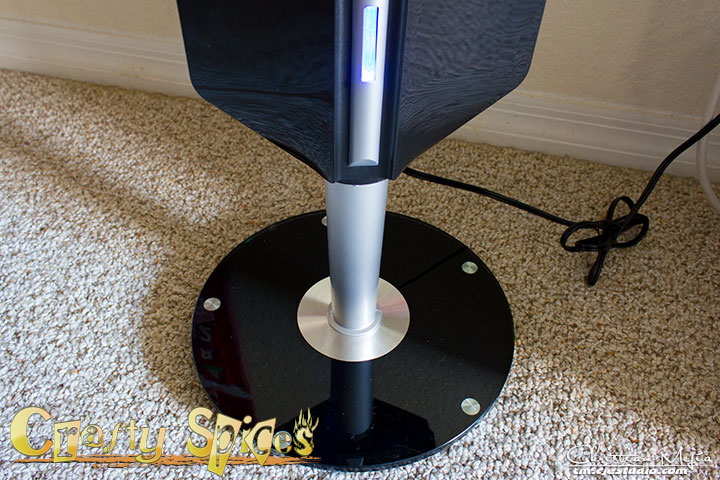 Ozeri 3X Tower Fan Stand
The air flow on on all three settings are very good, at lower speeds (1 & 2) it is really quiet, at higher speeds (3) it become a little noisier but nothing compare to our ceiling fan that sounds like a helicopter flying on top of us.
The LED blue indigo light at the lower part off the tower to indicate when powered on, can be bothersome to some people, when we are watching TV at night its verily notable, but when all light are off the light can be to bright and at list for us some times can be bothersome. We imaging that for kids that like to sleep with a night light it would work perfect.
I like the the honeycomb vent holes that protects and prevent small child from sticking there fingers into the blades. It is safer than the traditional pedestal fans we have owned previously.
To clean the Ozeri 3X tower fan you have 2 options, 1) take it outside and blow some compressed air in every area you see dust until its clean or 2) unscrewing with a philips head screw driver the Back panel of the fan and clean with a brush or a moist towel.
Pros:
Slim form factor design
3 independently controllable fans
Simple remote control
Cons:
We would like it to have the option to display the room temperature

Final Thoughts: The Ozeri 3X Tower Fan with Passive Noise Reduction Technology, is a good choice for does people that want the air flow of a fan without the noise of one. It is less noisy than a regular ceiling fan and other traditional tower fans. And has the advantage of 3 independently controllable fans in a very slim form factor, with 3 speed settings and other nice features.

The Company and Purchasing Information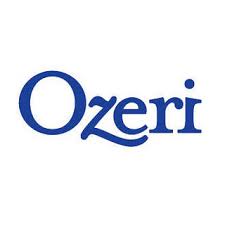 "Ozeri is a specialty manufacturer of digital lifestyle products for the modern home. Ozeri began as a supplier to the destination club market. This market spans vacation residences in the destination club industry, fractional residences, timeshares, and condo hotel apartments.
The Ozeri 3X Tower Fan with Passive Noise Reduction Technology line is only one of the many products that Ozeri offers. You may learn more about the company and it's products by visiting there WebSite
To purchase the Ozeri 3x Tower Fan with Passive Noise Reduction Technology go HERE
{xtypo_sticky}
Disclosure:
I received one or more of the products mentioned above for free. Regardless, I only recommend products or services I use personally and believe will be good for my readers. For our full disclosure and PR Info
Click Here
.{/xtypo_sticky}