Another thing that most children have in common these days, is the ability to use and manage tablets and smart phones. Our little ones love to have one in hand and can do many thing that I'm sure some adults are not able to do so.
As soon as we received the 3-in-1 Coloring Book "Meet Lulu" Activity Book & Kids Stylus Crayon both our daughters were all over it without even knowing exactly what it was, the reason for this is because the design and presentation of the package is so kids friendly that it definitely catches their attention. "Meet Lulu" is the big title and it has a very colorful cover and in the back it presents all Lulu's friends which we think it's a very nice thing.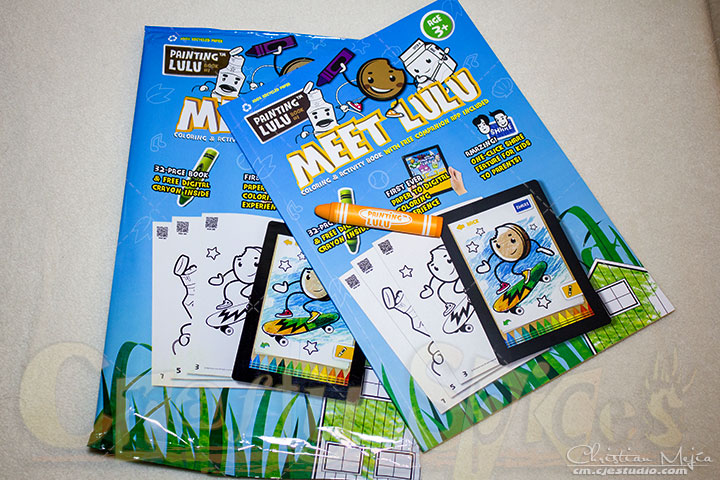 The girls were able to color on the coloring book, I downloaded the app on our tablet and using the "Painting Lulu" app, I then took a snapshot of what they had colored and showed them how they can continue coloring and making their art project by using the app and the tablet. They were both so excited, I think they (mostly our 4 year old) could not believe that what she started on paper she was able to continue in the tablet, not to mention they love the stylus that came with the package. we just love seeing her smile and watching her perky face as she colors.

Our final thoughts: We think it's a great idea that combines activities that kids love, I do have that to say that we came across a few issues, while they are not mayor they did bother me, not so much the kids at this point, but I think if they are a bit older they would not like the following:
We have been unable to save the artwork
We have been unable to print any artwork. As we click the print icon it says "loading…" but it never loads.
The app brings 3 books, 2 out of the 3 are looked and as we click one it pops a message with the following: "This feature is currently not supported for your device" (on iPad and iPhone)
There is a music symbol at the top of the screen, which let's me to believe the app should have sound but, regardless it it's clicked or not there is no sound.
Regardless of the above mention our daughters have played, painted and enjoyed the "Meet Lulu" Activity book, app and stylus for hours at a time, and love it.
We also love the kids friendly crayon stylus, as it fit's perfectly my daughters little hands, and it slides with ease in the iPad and iPhone. All this being said, in overall we think this is a great product and a good fit for any little boy or girl.

The Company and Purchasing Information
Some words from the company:
Come meet Lulu & her friends; Milky, Bob, Max, Toby, Jill, Lucy, Rudy and tom. all of lulu's friends are recyclable consumer goods that represent a part of the life cycle of environmentally friendly products. we believe that when we finish to use a product, we should do our best to ensure that its raw materials be reused and recycled for the future of our children and our earth. Use your crayons to color the Lulu book, or Simply pick the page in Lulu's Coloring Book that you want to reproduce on your device and scan the QR Code on the top right-hand or left-hand side of that page. It's that easy! Your device will open Painting Lulu's web app page and display a digital version of the page you scanned. Use the digital crayon stylus included with Lulu's Coloring Book and color away!
If you would like to order your very own 2-in-1 Coloring Book "Meet Lulu Activity Book" and Stylus, just click: Meet Lulu.
{xtypo_sticky}
Disclosure:
I received one or more of the products mentioned above for free using
Tomoson.com
. Regardless, I only recommend products or services I use personally and believe will be good for my readers. For our full disclosure and PR Info
Click Here
.{/xtypo_sticky}