We were offered the opportunity to review a product called "Screen Joy Microfiber Cloths" which has been developed specifically for cleaning electronic screens. And since we spend plenty of time cleaning I could not agree faster to start using these cloths.
Specifications and Features (Official Description):
These specially developed cloths have been designed specifically to wipe away dust and oils from the sensitive factory coating found on expensive HDTV, LCD, and Plasma Screen TVs as well as smartphone, tablet and laptop screens.
Screen Joy microfiber cloths can be used on a host of other household and office products like your eyeglasses and sunglasses, binoculars and camera lenses, even CDs and Blu Ray DVD discs.
Key Benefits Include:
- Ultra fine microfiber material that will gently lift away dust and grime
- Zig zag edges to prevent surface scratching
- Large surface area so you always have a clean spot of the cloth to finish the job
- Very very long lasting
What You Get:
- A 3 pack of LARGE 12 x 12 inch (30.5 x 30.5cm) ultra high quality microfiber cloths
The Screen Joy microfiber cloths gently lift dust and grime up and away from the delicate surface, trapping it in it's millions of tiny fibers (instead of pushing it across the surface like cotton) leaving your screens shining like new.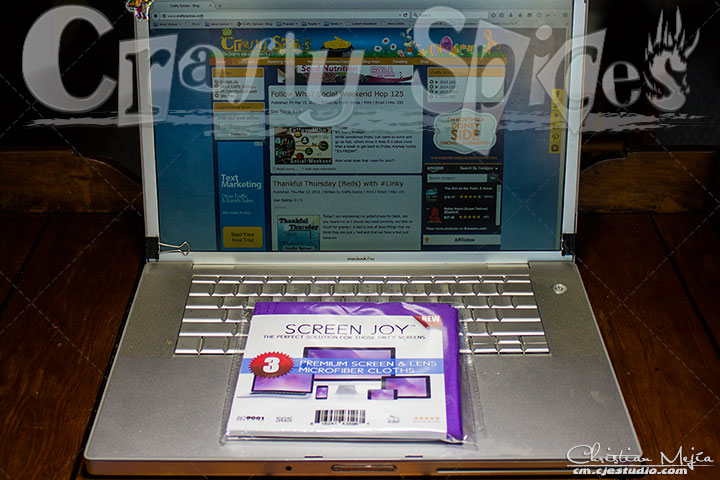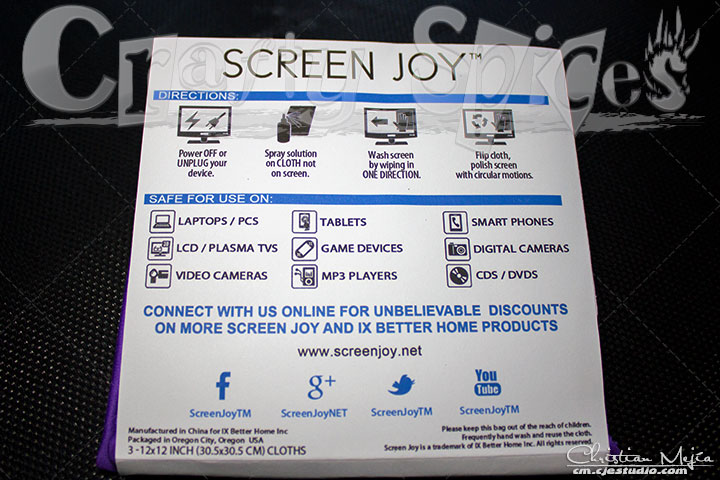 Our Review:
As we received the product I open it, had to take a picture, and then immediately took one out to clean the screen of my laptop that had about 17 in a half tinny little finger prints all over. Ok not sure if it was 17 but I did find a half of one that was a pain to get off.
My first impression: While the cloth have bright color and the soft/smooth feel, they seem strong and durable. I tried them dry and they got rid of the surface dust but was hard to remove fingerprints and other smudges. But ones I wet just a side of the cloth all smudges came out and the screen cleaned beautifully.
Since then, before starting to clean a screen I fold in 4 a Screen Joy Microfiber cloth, then wet just a side swipe it over the screen and then turn it to the dry side for some great results.
Unlike most screen cloths that we see on the market, these cloths are of a great size (12 x 12 inches), we can clean fold and continue to clean. They are not bulky and dry very quickly. I love having one almost at arms reach, so when I see smudges I can attack them immediately. Oh and by the way they also work excellent to clean glass surfaces.

Purchasing Information
If you would like to learn more about the Screen Joy Microfiber Cloths follow/like them via:
Facebook
//
Tweeter
//
YouTube
If you would like to purchase the " Screen Joy Microfiber Cloths" they are available:
HERE
{xtypo_sticky}
Disclosure:
I received one or more of the products mentioned above for free using
Tomoson.com
. Regardless, I only recommend products or services I use personally and believe will be good for my readers. For our full disclosure and PR Info
Click Here
.{/xtypo_sticky}