The Children N Us Super Stroller Organizer is a black very spacious inside bag-like to be used on a stroller. It has 2 cup or water holders, a partial top that when closed covers all except the pockets for the cups allowing for larger water bottles or zippy cups to be in place with easy access. This Super Stroller Organizer also has a front snap down pocket to facilitate carrying small item, and an uncovered pocket for a smartphone. It's made out of a non stretch fabric that works great in keeping things in place
After receiving the Children N Us Super Stroller Organizer I have been able to eliminate one bag, for walks I have managed to go our without having to carry a bag at all… Not that this stroller organizer is as big as my 3 bags together but making life simpler is always a plus. It's definitely a plus to have things organized in an efficient way and place where we can all access them easily. I really like that this is not only a Stroller Organizer, we have used it while ridding bike, and even to keep things organized inside the car.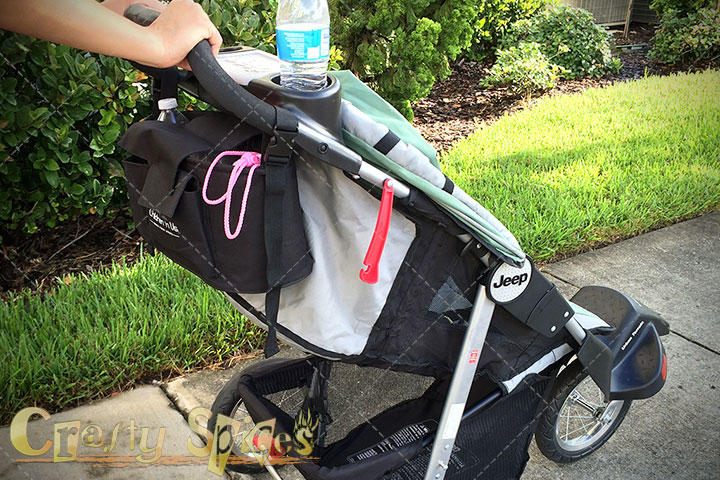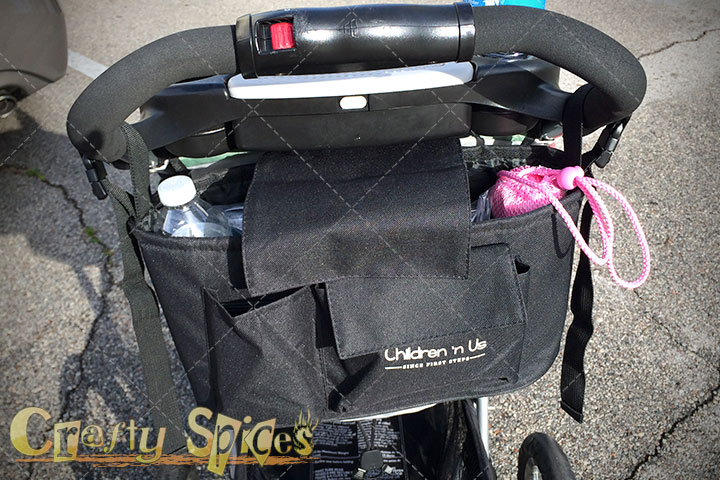 I have 2 critiques, my first one being that the right side no matter how much I try to get it to stay in place one of the two adjustable straps always slides down and I have to keep pulling and tightening it. The second thing is more like a suggestion or a wish: it would be nice if it had either a strap or an adapter to converted from a stroller organizer to a shoulder bag. Why do I say this? sometimes we go to places and then we have to park our stroller and walk for sometime but snacks and water are in the Children N Us Super Stroller Organizer and what then, I find myself getting our a canvas bag to put in what's inside the organizer or take off the organizer and put it inside the canvas bag just to make it easier to carry, until we get back to the stroller or bike. I have been working on trying to come up with something that would solve both of these problems.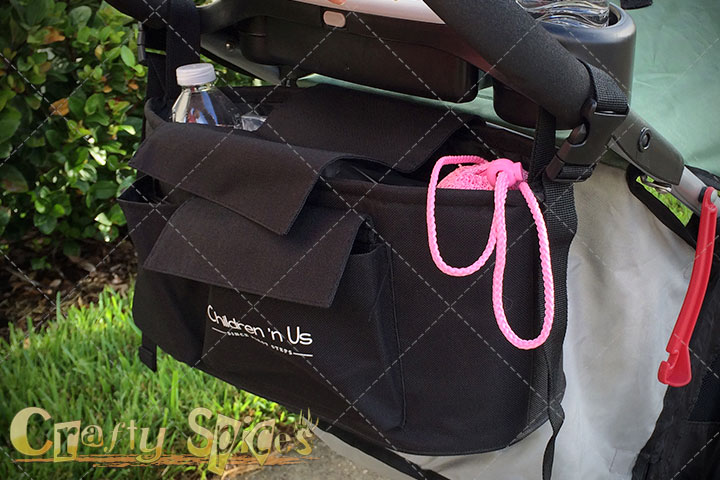 Pros: Easy to attach, plenty of pockets to keep in everything in place, works well on stroller, bike, cart and car, easy access to drinking cups, and it's the perfect size.
Cons: straps slides down very often and it's missing a shoulder strap.
Final Thoughts:
In overall we really like the Stroller Organizer and we love how we can keep things nice and organize from the kitchen counter to the car, stroller, bike and about. While I had never thought about getting something like this I am very happy with the results and it has solved a problem that we did not know we had.

The Company and Purchasing Information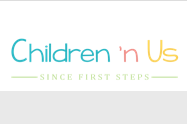 "
Children 'n Us
is committed to providing essential products and solutions to families helping them in the wonderful task of raising a child."
The "Children 'n Us Stroller Organizer" is available to purchase: HERE

To learn more about Children 'n Us and the Stroller Organizer follow them via: Website // Twitter // Facebook // Pinterest
{xtypo_sticky}
Disclosure:
I received one or more of the products mentioned above for free using
Tomoson.com
. Regardless, I only recommend products or services I use personally and believe will be good for my readers. For our full disclosure and PR Info
Click Here
.{/xtypo_sticky}