This is how the manufactures describe their product: Grazia® Silicone 24 Cup MINI Muffin Pan is a non-stick food grade silicone muffin cupcake baking pan that is extremely easy to clean, safe to use in the oven, microwave, dishwasher, or freezer. It is heat resistant for up to 450°F.
Now from that statement alone I like a few things, such as: The pan is made out of silicone making it easier to manage (taking out the baked muffins or cupcakes) and clean. Not to mention it is actually dishwasher safe. I also like that it is safe to place in the freezer, so I can prepare the tray ahead of time and just bring it out to place inside the oven or even try some new recipes in the microwave.
I actually have never thought about "baking" in the microwave oven" but the Grazia Silicon pan has left me thinking of coming up with a recipe to try out in the microwave. I have yet to do it but I'm sure I will anytime soon.
As of today we have used this pan to bake banana muffins and rainbow cupcakes which our 4 year old daughter helped make and she notice and really liked the red silicone pan, now it's her favorite pan.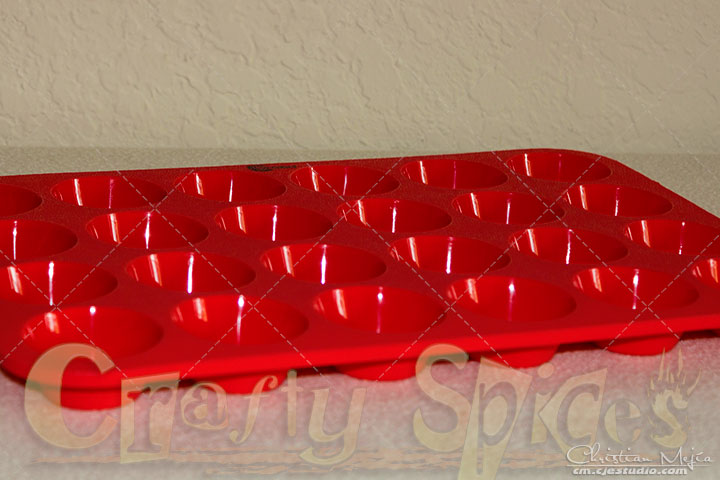 Our muffins and the cupcakes came out great and evenly cooked, we enjoyed making them and also taking them out, since the Grazia silicon pan is so flexible that the muffins came out fast and perfectly without no hassle, no sticking and no mess to clean up. Allowing the little ones to take the muffins out of the pan was a much easier task with this pan than with others we have used previously.
We love that they are mini muffins or bite size and not a full loaded muffins, these work great for snacks or for on the go treats for the girls.
Last but certainly not least was the cleaning up, definitely a winner compared to metal pans. Cleaning the Grazia Silicone pan was as easy as washing a plate were you ate a sandwich.
All this being said there are many benefits to using the Grazia Silicone Mini Muffin Pan, and by the way they are FDA Approved and made of High Quality Construction.

Purchasing Information
If you would like to buy a Grazia® Silicone 24 Cup MINI Muffin Pan, go to
Amazon.com
and order one for $13.89 (as of this posting) instead of it's regular price of $39.99
{xtypo_sticky}
Disclosure:
I received one or more of the products mentioned above for free using
Tomoson.com
. Regardless, I only recommend products or services I use personally and believe will be good for my readers. For our full disclosure and PR Info
Click Here
.{/xtypo_sticky}