The little package arrive just in the nick of time, both our 2 and 4 year old girls had been with a stuffy nose for about 2 days, so I did not waste any time to put the Squirt to the test. It's a 4 oz. Nasopure® bottle, 20 - 3.75 gram buffered saline packs.
Kaylee our little 2 year old is always up for medicine or just about anything that you give her, not sure what she thought it was, but I am sure she had a different idea, even though I told her it was for her nose and she staid still, ones I squeezed the Nasopure Little Squirt (bottle) as the water came out from the other side she just did not like it. I knew right there that it worked, but we still had Kira to try it.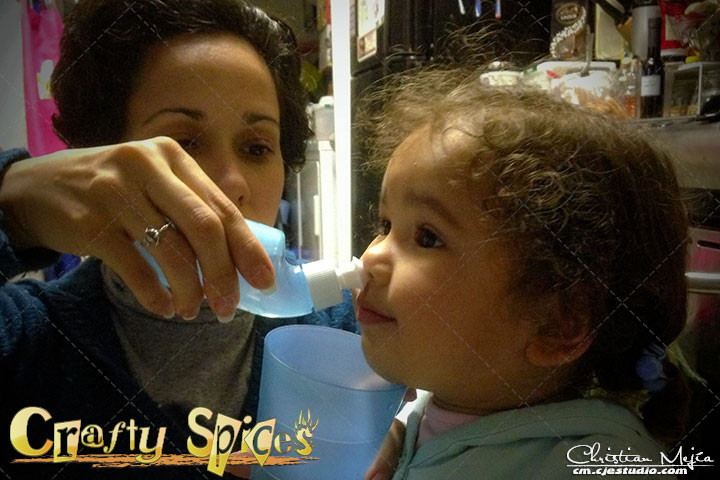 Kaylee using the Nasopure Little Squirt to go
Our 4 almost 5 year old daughter (Kira ) was not thrilled about water going up her nose, but seeing her sister do it helped and after the first time the others were not so bad. It was actually really good all the stuff that came out, she could not believe that she had all that junk inside her little nose.
Benefits of the use:
Gently removes pollen, mold, dust, mucus and other pollutants.
Refreshes while moisturizing the nasal lining.
Non habit-forming.
Can be used with prescription nasal sprays.
Safe enough for anyone age 2 and above.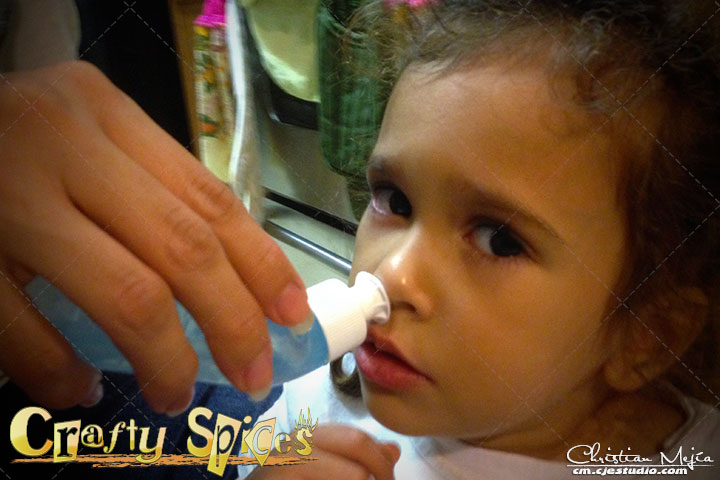 Kira using the Nasopure Little Squirt to go
I have a confession to make, it's not only been the girls that have benefit from the Nasopure Little Squirt to go, I have used it myself a number of times as well.
While it is actually meant to be used on the go because of it's convenient size, we love that we can use it at home, or take it with us wherever we go.
After using the Nasopure Little Squirt I can't see us going without it.

Purchasing Information
The "Nasopure Little Squirt to go" is available to purchase:
HERE
{xtypo_sticky}
Disclosure:
I received one or more of the products mentioned above for free using
Tomoson.com
. Regardless, I only recommend products or services I use personally and believe will be good for my readers. For our full disclosure and PR Info
Click Here
.{/xtypo_sticky}