When introducing something new to our household specially if it's something that our girls are going to be interacting with, we always look for things that have somewhat of a learning curve, educational points. Meaning things that we can use to continue our homeschool process. From the moment I saw this game I know we could make "The Pancake Pile-up Game" part of one of our lessons. The one thing we were not sure was how our girls would react to this game and pancakes,
The Box: contains ten - 2.5" pancakes in five different flavors (strawberry, plain, blueberry, chocolate chip and banana), two plates, two small butter chunks, two spatulas, ten cards with different pancake order, a how to guide and one of the sides of the box acts or serves as a the griddle game board.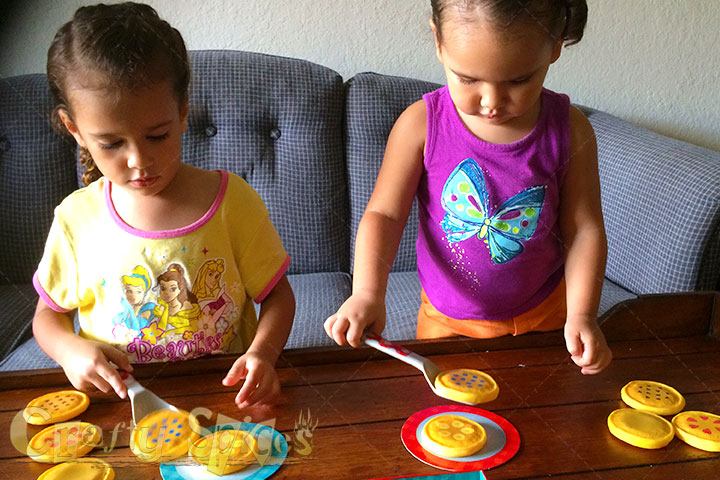 Kira and Kaylee starting the game, learning as they go.
Our girls are 4 and 2 and while the is recommended for children 4 and up, I have to say that our little 2 year old has gotten her share of pancake pile-ups. To our surprise they both love the pancakes, we have gotten so much more than just a game, the girls love to play the game, and they also really like to play "make believe cooking pancakes"
The actual game consists of selecting a card then the children (our girls) using only a spatula have to try and make the exact pancake pile-up, toped with the make believe butter. This is a game they can play without the need of batteries or any type of power to it, in fact I would consider this game extremely low-tech, and yet brings so much fun to young children.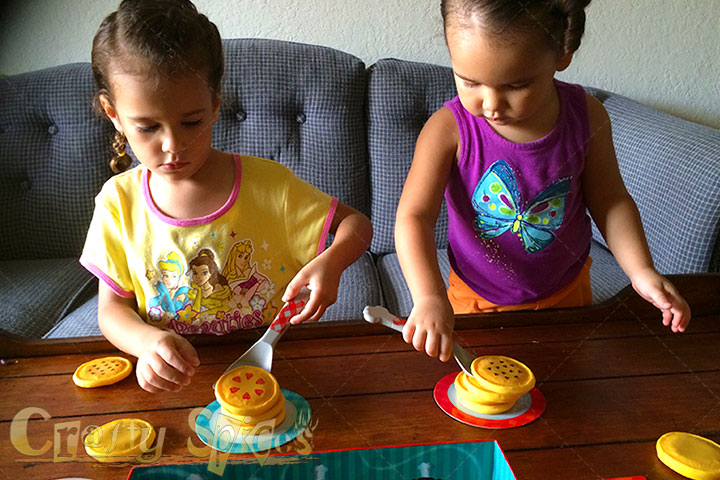 Kira and Kaylee playing the Pancakes Pile-up Game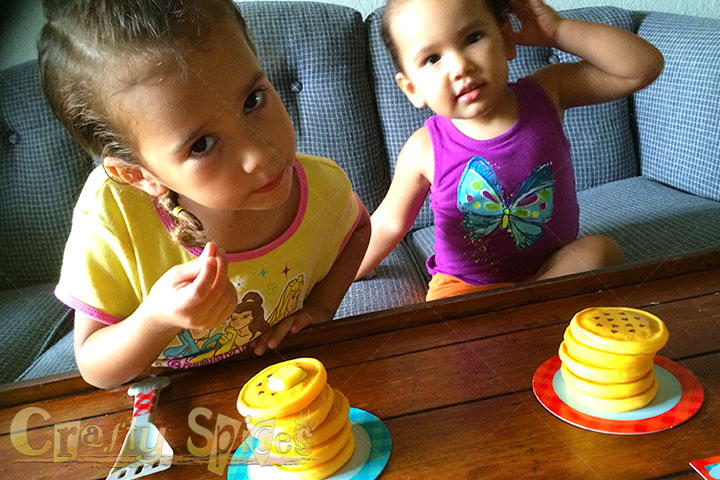 Happy they completed the pile-up
Besides the game and the pretend cooking using the Pancake Pile-up Game we have been able to incorporated a number of education activities including but not limited to: matching activities, math games (addition and subtraction), help develop gross motor skills, fruit and color coordination and wordings.
Pros: Help develop gross motor skills and can be easily incorporated into other educational activities, no batteries needed.
Cons: Limited to 2 players or have to separate into two relay teams.
Our final Thoughts: Nice simple game at a very reasonable price, love how easily we can do multiple activities with the pancakes and not be limited to just the game board.
The Company and Purchasing Information
To learn more about the company behind the distribution of the Pancake Pile-up Game and check out all the other educational games that that offer. Connect with Educational Insights via:
Website
//
Facebook
//
Twitter
//
Pinterest
//
Instagram
If you are interested in purchasing the Pancake Pile-up Game, you may order:
HERE
{xtypo_sticky}
Disclosure:
No monetary compensation was given for this post. I received a free product for our personal feedback, I was not required to post or feature on this site. All opinions are 100% my own and may not reflect those of others or yourself. For our full disclosure and PR Info
Click Here
.{/xtypo_sticky}