Having a power bank means we don't need to be fighting over the only usb connector in the car or having to go around like crazy trying to find a wall outlet to charge our devices. This is were having a good Power bank really come in handy.
The 11200mAh Power Castle has a simple yet stylish design, in a brushed metal body. It is extremely light weight (only 278G, but it has a sturdy feeling) and has a backlit LCD screen that, when the button is press, will light up for 30 seconds showing which port is being used and the percentage of charge left. The IntoCircuit PC11200 has 2 usb charging ports (2.1A and 1A) allowing for charging two devices at the same time, a 5V micro USB port for charging the power bank, and a LED flashlight (yes it comes with a integrated flashlight) that it will turn on by double pressing the on/off button. And as a bonus it comes with a velvet like bag to protect the power bank from scratches wile traveling.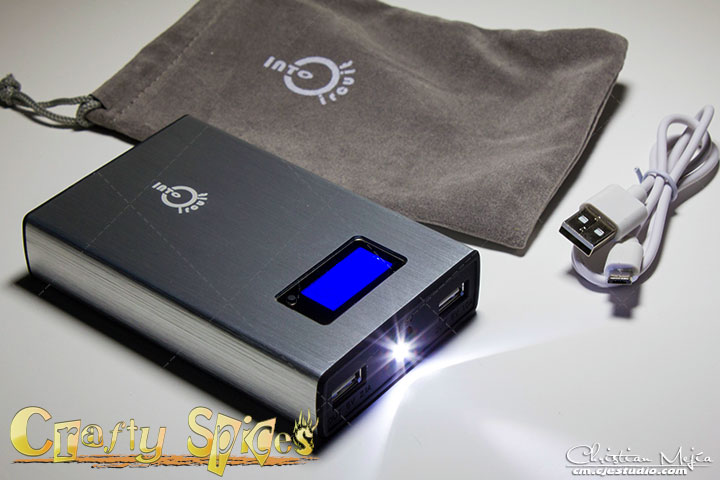 Specifications and Features:
Official Description.
Stylish aluminum alloy shell with blue LCD display. 5 intelligent LED status bar indicates the current battery status and the current charging status will be on the LCD display as well.
Compact, portable & stylish design with built-in flashlight; Together with the included travel pouch, it's perfect for long plane flights, road trips.
High capacity, 11200 mAh; Add 4-5 full charges or 40 hours of talk time to iPhone 5 / 4S / 4 / 3GS, 3-4 full charges for Samsung Galaxy S3, or 450~500 % to most mobile phones' battery life.
Dual USB ports: 5V 1A for most smartphones; 5V 2.1A for tablets; Can charge two devices at full speed simultaneously.
Package includes:
1) Intocircuit PC11200 External battery // 2) 1 Micro USB cable // 3) 1 user manual // 4) 1 handy carring pouch
Our Experience and Review:
Right after taking the PC11200 Power Bank from the box, the first thing we did was to press the on/off button to check if the Power Bank came charge or if we had to plug it in, and it show it had 99% charge, so we proceeded to connect some devices. To test the IntoCircuit PC11200 Power Bank we first use an iPod 5 (that was fully depleted) and an iPod touch second generation (also fully depleted).
It took 1 an half hour for the iPod 5 connected to the 2.1A port and 2 an half hours for the iPod touch second generation connected to the 1A port to fully charge. The IntoCircuit PC11200 Power Bank steel remained with a 75% of charge. Great result, two devices fully charge and still enough charge left for a few more.
Intocircuit® 11200mAh Power Castle connected to iPod 5 and iPod touch 2 generation.
For our second test we plugged-in an iPhone 5S to the 2.1A port to charge, the iPhone had 2% battery, it took 2 hour and 25 minutes to be fully charge, and the IntoCircuit PC11200 Power Bank still had 58% of charge.
In our third test we plugin an iPad 3 completely depleted to the 2.1A port to charge, 1 hour 15 minutes pass and the iPad was at 26% and the power bank had only 1% of charge left, so we decided to connect the PC11200 Power Bank to a power source and it continue charging the iPad 3 wile charging itself at the same time. The Power bank stop charging it self at 14% (2 hour 30 minutes since we began to charge the iPad), but it kept charging the iPad, at the end of 7 hours the iPad was fully charge. 16 hours had passed and finally the Power Bank was fully charge, Now remember that for the first 5 hours and 45 minutes the PC11200 Power Bank was also charging an iPad so my estimation of how fast the Power Bank charge it self would be between 10-13 hours.
After all our test we can say that so far we are very happy with the IntoCircuit PC11200 Power Bank performance.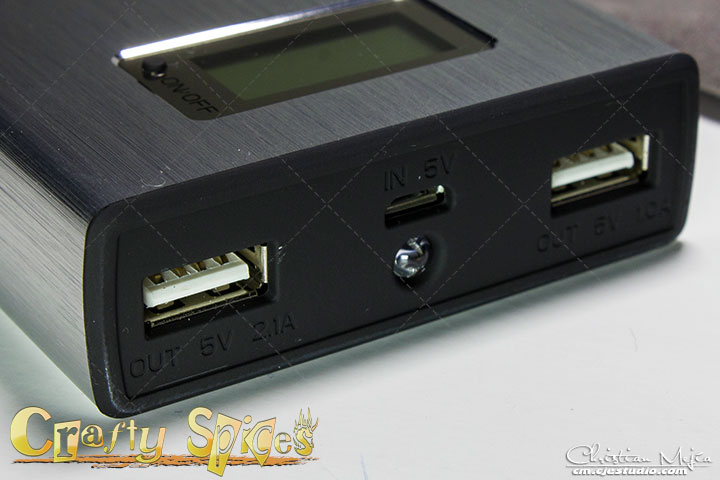 Close up of ports connectors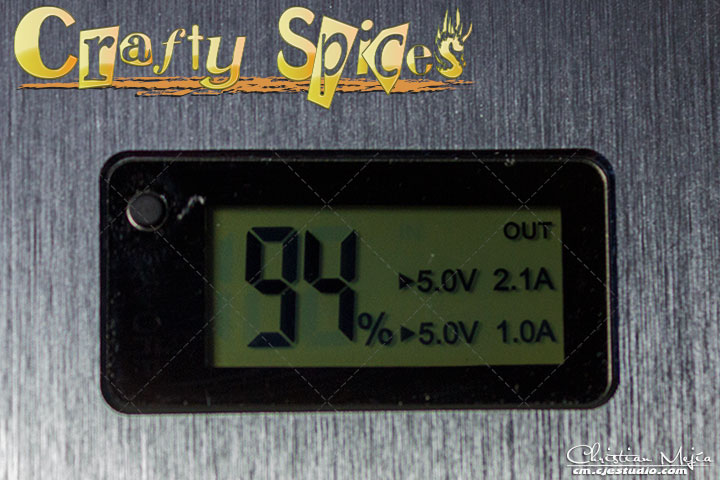 LCD display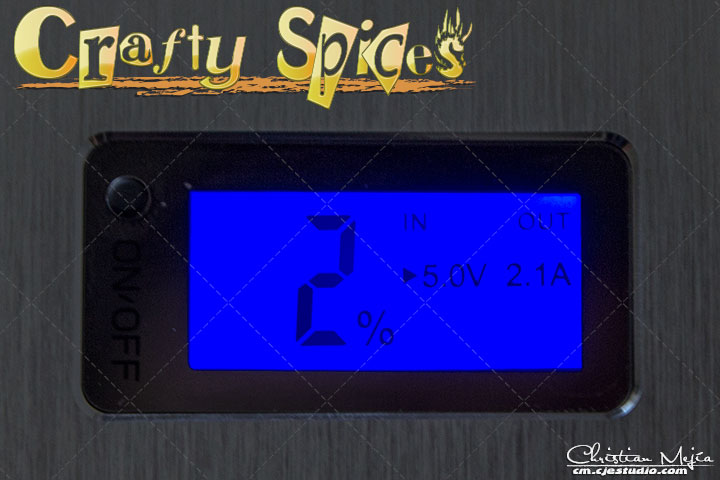 LCD displaing charging
One feature that we really like is the digital backlit LCD that indicates the status of the usb output and instant access to how much charge by percentage it has left. Another nice touch is that it automatically starts to charge the device when plug in without having to press a button, I know it's common for most power banks yet it's something that we like.
Two feature worth mentioning are the protection functions: • The Output short-circuit protection, if it detects a short-circuit, it will turn off output to protect itself and the device connected. When the short-circuit device is removed, output will recover automatically. • The Built-in battery protection: - Charge Protection, protective charge voltage 4.2V ± 0.05V, and - Under-voltage protection, output stops when voltage is below 3V., recharging the unit will exit the under voltage protection.
Although I didn't care much for the built in flashlight, I have to admit it has come in handy a few times since I'm always dropping my thumb drive and it alway get hyden behind the sofa or somewhere that forces me to look for a flashlight.
The IntoCircuit PC11200 Power Bank is 4.2 x 7.5 x 1.3 inches so it's not quite pocket size but it's compact enough that it can easily be carried in a purse, backpack or briefcase for travel.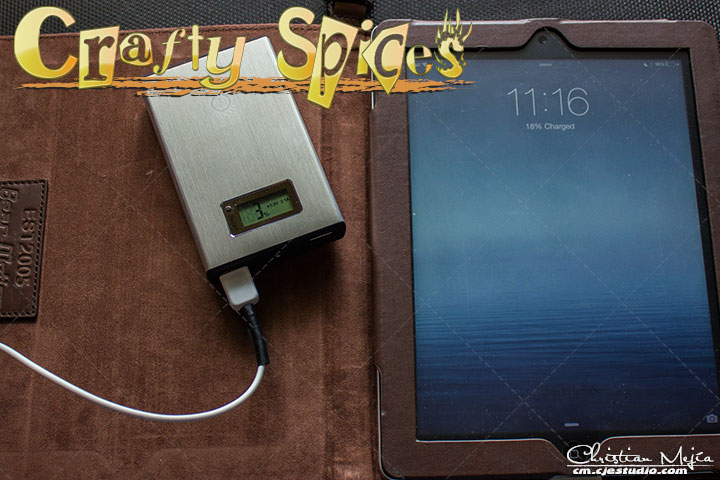 Intocircuit® 11200mAh Power Castle connected to iPad 3
Pros:
Compact for the amount of power it has (11200 mAh)
LCD display is a welcome feature
Can charge two devices at once
Cons:
Output ports labels are difficult to read, (they are attached into a dark plastic)
It does not come with its own wall charger, just the usb

Final Thoughts: Considering the amount of power it puts out, the IntoCircuit PC11200 Power Castle is good for bloggers, for those whom office is in a briefcases or on the go and most people who like to travel, camping or hiking... The convenience of two charging port and LCD that displays the remaining charge and the bonus velvet like bag, make it a good choice for everyone on the go.

The Company and Purchasing Information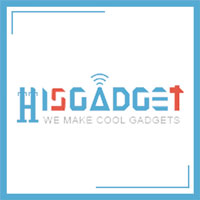 HISGADGET tracks all the latest consumer technology breakthroughs and shows you what's new, what matters, and how technology can enrich your life. Besides, we design and manufacture our products from the most competitive suppliers.
To learn more about HISGADGET and it's products visit / follow via:
Website// Facebook // Twitter
To Purchase Click HERE
{xtypo_sticky}
Disclosure:
I received one or more of the products mentioned above for free using
Tomoson.com
. Regardless, I only recommend products or services I use personally and believe will be good for my readers. For our full disclosure and PR Info
Click Here
.{/xtypo_sticky}