I have to admit that I was actually not sure as to what to expect since I had never really had wear any similar type of shirt, so after I new it was on it's way I tried to find out more as of the uses that I could possibly have for this shirt and I was very impressed to learn that not only I could use it for my not so regular exercises out in the sun (and it would protect my skin from the Sun) but also it could be use for swimming, and for cold weather or protection.
Ones the shirt arrived I was so curious as if it would fit me well that I had to try it on, even though I normally like to wash new clothing and I eventually did I just had to try it and while I do think that most people would probably wear it a bit tighter to their skin I was actually happy that it was not to tight and I felt comfortable wearing it.
The material is soft and does not feel at all intrusive or in the way, after washing it I wore it to go for a bike run and then do a bit of jogging, I like how wearing it made my body temperature feel more at a regulated temperature than when I use to go before I had it.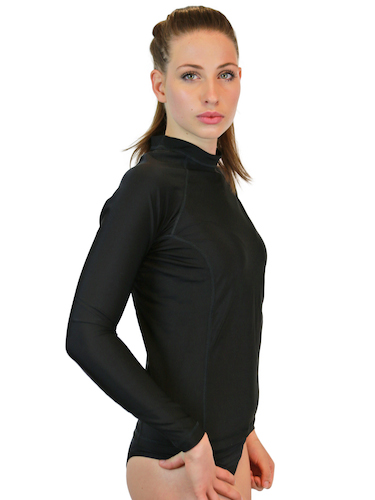 Because the shirt being long sleeve I had the idea that it would feel hot and maybe as if it was to much to go for a bike run but I was very wrong, this Rash Guard Compression Shirt is very light weight and I found out after I got soak wet with rain that it dries pretty quick especially in the sun, something that I was extremely happy with since I do not like to be wearing wet clothing.
It is also a great shirt to use to keep warm, I for example like the outdoors, but some outdoor events specially at night time make me feel cold very quickly, wearing this under my regular clothing has kept me warm and feel very comfortable, this way I don't have to be wearing a big jacket that often gets in the way.
In overall after wearing this shirt I think they are a great product, that I have no idea how I had not tried on before. I highly recommend using compression shirts to protect the skin from a number of natural elements and feel comfortable at the same time.

Purchasing Information
The "Rash Guard Women Long Sleeve Compression Shirt" is available to purchase:
HERE
{xtypo_sticky}
Disclosure:
I received one or more of the products mentioned above for free using
Tomoson.com
. Regardless, I only recommend products or services I use personally and believe will be good for my readers. For our full disclosure and PR Info
Click Here
.{/xtypo_sticky}