Next we put an iPhone in the case and submerged it in the bathroom sink for a few minutes, watching very carefully and nervously, as you could imagine this time we did not walk away, while still under water we took time to unlock the iPhone and open a few app, found it to be responsive and had no issues even receiving a call, of course I could not talk while it was under water but the call did come in. We took it out, the iPhone was completely dry. Now you have to remember to dry the case before opening it, because if there is water outside or in the locking mechanism, it might get inside if you are not very careful as you open it and take the iPhone out.
Specifications and Features: Official Description, Kobert Waterproof Case.
Premium quality waterproof case to keep your phone, mp3 player, device dry
Crystal clear see-through plastic on both sides for amazing pictures & movies under the water!
Easy access to your touch screen phone while in the case!
Universal bag that can be used for any device.
Easy to use with a secure snap and lock mechanism
Convenient and stylish.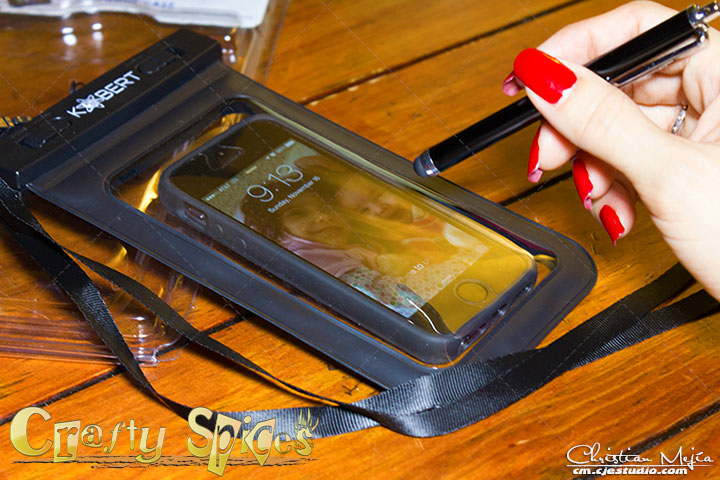 Features:
Inner bag size: 3.34" x 6.49" (8.5cm x 16.5cm) -Will fit an iPhone 6,6 Plus(Without Case),5,5s,5c,4,4s,3,Samsung Galaxy s3,s4,s5,Note 2,Note 3,Note 4,Nokia Lumia,Windows Phone 8x,Nexus 4,HTC One/One X/X+ & many more!
IPX8 CERTIFIED to 100 Feet (30 m) -Made from PVC & ABS
Secure snap and lock/unlock mechanism
Neck strap included for easy carrying
Instruction card
The Kobert Waterproof Case is 3.34" x 6.49" in size and lets you carry safely different size of devices in it, it's made of good quality plastic (PVC & ABS; ABS stands for acrylonitrile butadiene styrene and PVC stands for polyvinyl chloride, they are very flexible, water resistant materials use in a lot of industrial, commercial and home products), the seams around it are well made and sealed to protect the inside of moisture tying to get in.
The way it closes is very interesting, it has a clamp which provides a tight seal and two rotating locks that tightens and securely holds the clamp together for a worry, hassle-free, water resistance seal. It conveniently comes with a detachable long lanyard so you can easily strap it around your neck. It is IPX8 CERTIFIED to 100 Feet (30 m), (IPX-8 Protected against water submersion - The equipment is suitable for continual submersion in water under conditions which are identified by the manufacturer) this is a very good advantage for those that like to go to water parks, swim, snorkel or dive.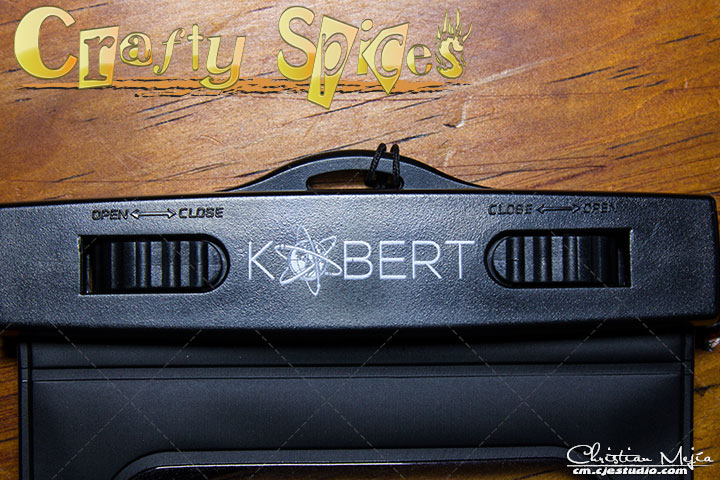 Close up of snap and lock mechanism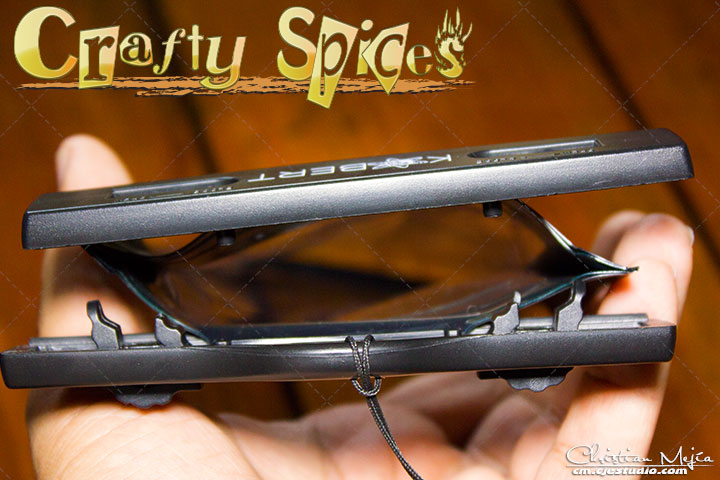 Opening of the case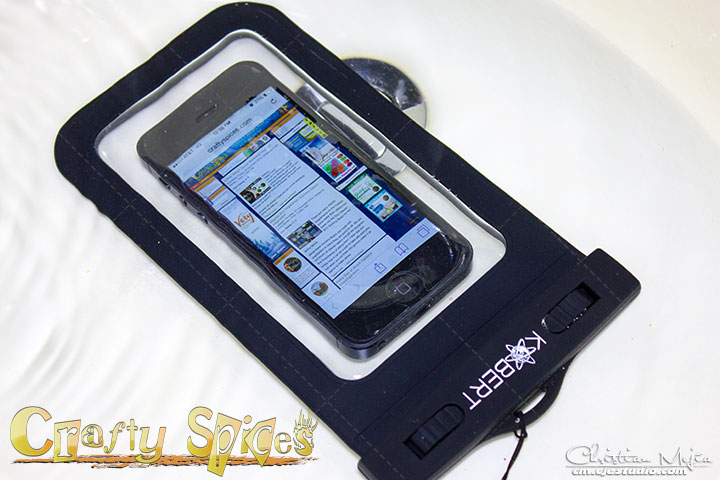 Kobert: iPhone submerged in water
I'm always worried to leave my iPhone and other valuable unattended, every time we go to the beach, swimming pool or attraction park, so this is a great solution for me, I insert my iPhone, ID, credit card and some cash and i'm good to go. The coolest part is that you can use your phone (the touch screen worked without issues although the side buttons are very difficult to use) while it is safely tucked away and sealed in the Kobert waterproof case, and also take pictures though the case since both the front and back cameras are able to be use through the translucent windows on both sides. We have taken pictures even while under water and they come out good considering we are taking pictures through a plastic.
As an added bonus it also comes with a stylus that works well, but not entirely necessary as fingertips also works well on the plastic surface. We also have found that for convenience it's better to place the phone upside-down, as the phone rings or if you would like to access an app you just flip it towards yourself and you have the phone in the correct position, not to mention I would imagine it you have a larger device like the iPhone 6, it would be less likely for the encasing to cover the location of the camera if it is in this position.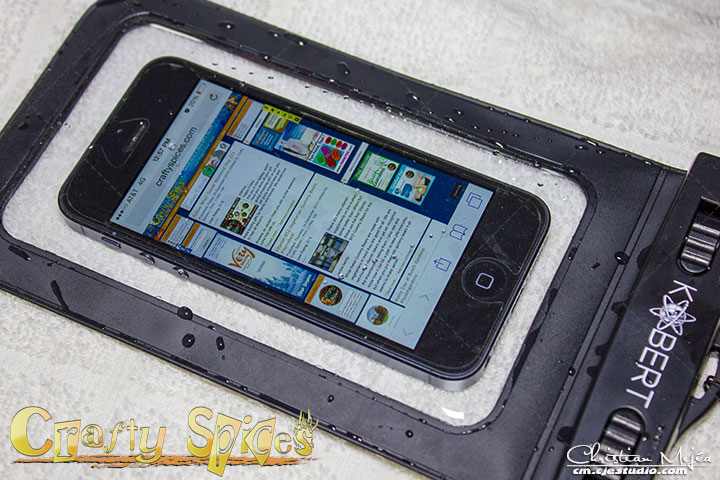 Kobert Waterproof Case WPC-007 with an iPhone after been submerged in water
Pros:
Responsive touch screen
Ipx8 certified to 100 feet (30 m)
30 day money back guarantee
1 year replacement guarantee
Good Phone Call Sound quality
Underwater camera use
Cons:
Side and top buttons are difficult to press.

Final Thoughts: I like the quality of the IKobert Waterproof Case, how easy is to use the touch screen of my iPhone 5 and take picture under water. It gives me peace of mind that I have my device with me and it is well protected. I Definitely recommend this Case, I am so glad we received this case as I really had my doubt and now I am all for it.

The Company and Purchasing Information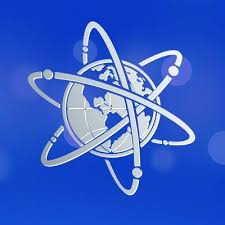 Kobert International is an online business selling cell phone accessories, making our everyday life easier with our devices and electronic gadgets.
To learn more about Infernal Innovations and it's products visit / follow via:
Website // Facebook // Twitter // Google+ // YouTube // Pinterest
To Purchase Click HERE
{xtypo_sticky}
Disclosure:
I received one or more of the products mentioned above for free using
Tomoson.com
. Regardless, I only recommend products or services I use personally and believe will be good for my readers. For our full disclosure and PR Info
Click Here
.{/xtypo_sticky}