Been a graphic designer/photographer and a blogger it is very normal to use all of them in a day's work. So when we were presented with the chance of reviewing the Liztek HB7-3200 USB 3.0 7-Port Hub we were happy and eager to put it to the test. We received the Liztek HB7-3200 USB 3.0 7-Port Hub, it comes in a small box with an appealing design, as we opened it we found all the necessary parts to connected and start using it.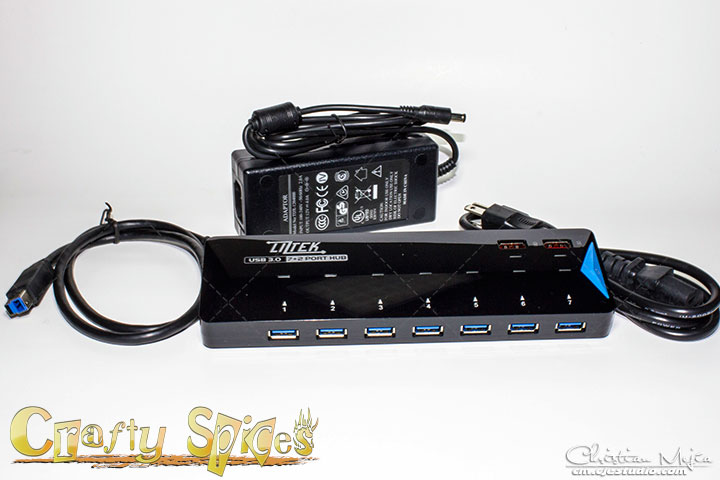 Specifications and Features:
Official Description.
Compact and lightweight
Smart Charging Port - Comes with 2 extra port for fast charging of mobile phones, IPAD, Android devices, Samsung Galaxy, offering quick charges of devices up to 2.4A, 5V charge input
7 SuperSpeed ports delivering transfer speed of up to 5Gbps (Note: actual rate will depend on the capability of your device). Backward compatible with USB 2.0 / 1.1.
LED indicators for each USB 3.0 ports, Built in Power On/Off blue switch, 18 months warranty
Supports plug-and-play and hot-swapping. No installation of drivers required for Windows XP / Vista / 7 / 8 or Mac OS X 10.2 and above.
Package includes:
1) Liztek USB 3.0 7-Port Hub // 2) 12V/4A power adapter (8 ft) // 3) 2.7-foot USB 3.0 cable
Our Experience and Review:
The Liztek HB7-3200 USB 3.0 7-Port Hub has a stylish and compact design (8 × 2.4 × 0.8in), it come in black and weights only 4.7 oz.
The hub has 7 usb ports that allow the use of 7 devices at the same time while also charging them. (I was able to connect my iPhone, update it with iTunes and charge it at the same time, just like in my regular direct connection to my MacBook Pro. It also has 2 dedicate fast charge usb ports, very convenient for dose of us with a home office, and a lot of gadgets.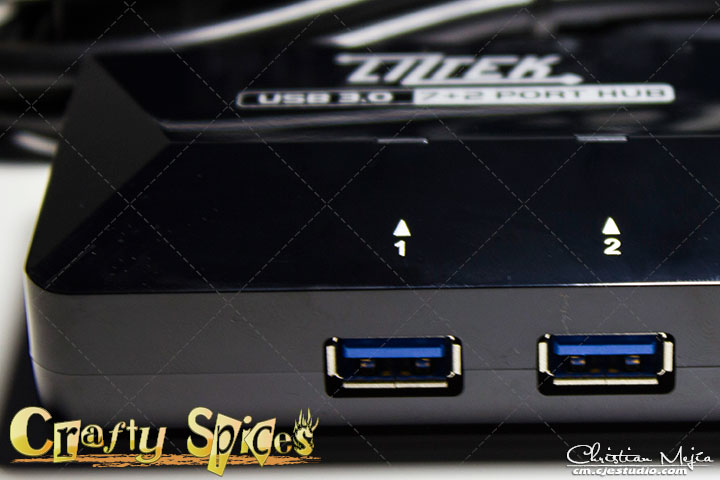 Close up of USB 3 ports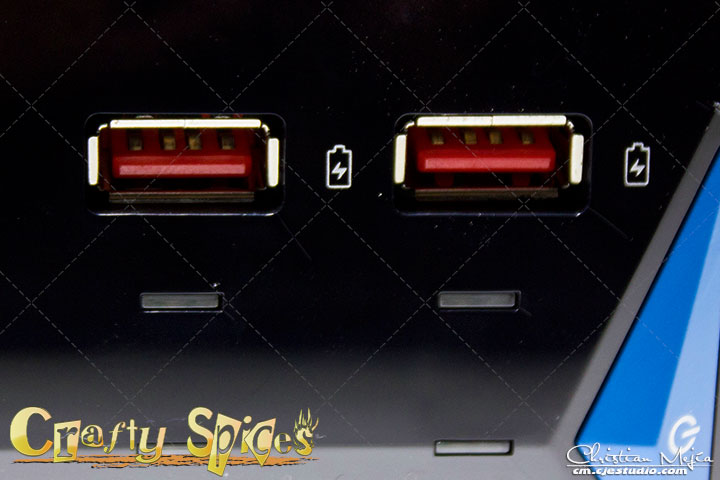 FAST charging ports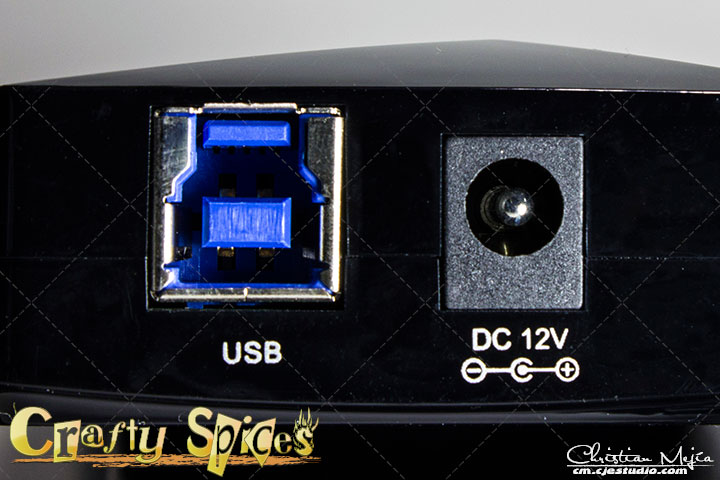 USB 3 and power connections
For review purposes I connected the Liztek HB7-3200 USB 3.0 7-Port Hub to three different computers (MacBook Pro, windows 7 Dell Desktop PC and a HP Laptop) and it worked perfectly with all three, everything I connected to the hub was recognize and mounted properly to the computer, 1 printer, 2 usb thumb drives, 1 Canon T2i camera and 1 external hard drive were connected at the same time and it passed the test. I also connected 1iPhone and 1 iPad, to the fast charge ports and was able to charged them while using the other devices.
Each USB 3.0 port has a very convenient blue light LED indicator to easily recognize the port in use by the devices connected to your computer (when in use the port will light up). The Hub comes with a built in Power On/Off blue switch and built-in short-circuit protection. The Hub doesn't have to be connected to a computer for the two fast charge port be use, just make sure to connected the included power adapter and you are set to charge two devices at a time.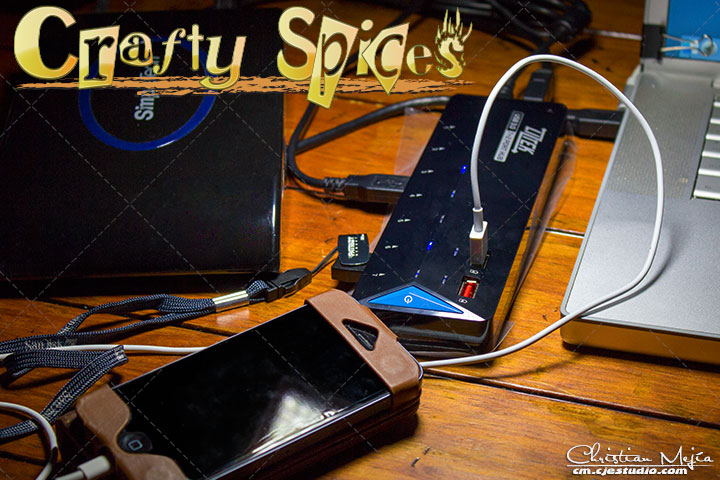 Liztek HB7-3200 USB 3 Hub and connected devices
Pros:
7 plug-n-play USB 3.0 hub
Two exclusive smart FAST charging ports (2.4A, 5V charge input)
Lead indicators display the status of each port
Build in surge protector in each port
Build in recovery fuse protection on each USB power port
Cons:
Can't connect more than 1 bus power Hard Disk Drive at a time.
The fast charging ports are only for charging devices they do not connect the device to the computer.

Final Thoughts: I would recommend the Liztek HB7-3200 USB 3.0 7-Port Hub to anyone who has a home office and/or several devices that would like to connected to a computer at the same time.

The Company and Purchasing Information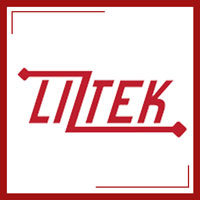 Liztek is devoted to designing, developing and manufacturing innovative products to meet the needs of our customers.
To learn more about Liztek and it's products visit / follow via:
Website
To Purchase Click HERE
{xtypo_sticky}
Disclosure:
I received one or more of the products mentioned above for free using
Tomoson.com
. Regardless, I only recommend products or services I use personally and believe will be good for my readers. For our full disclosure and PR Info
Click Here
.{/xtypo_sticky}