Overweight is a common problem here in the USA, producing products that are all natural and help with weight loss or weight control is a step in the right direction. But do they work??
Product Description:
Pure Natural Raspberry Ketones (Not Synthesized in Lab, It is extracted from Natural Sources), No Additives, No Fillers or Artificial Ingredients.
Made in USA, with FDA Approved cGMP (Current Good Manufacturing Practice, Highest Quality Standard for Manufacturing Supplements).
Pure Natural Raspberry Ketones, 500 MG, 12O capsules, No additives, No Binders, No Fillers or No artificial Ingredients. Quality is Tested and Standardized against the Monographs in USP/NF.
Proven Fat Burner and Appetite Controller. In Vivo and In Vitro studies, it shows that it increases the Fatty Acid Oxidation; stimulate Adiponectin, which is a protein involved in regulating Glucose Level and Fatty Acid Oxidation. It burns the Body Fat and Converts it into Energy when Body needs it and that is how it helps Body to Control Appetite; as a result it is Appetite Suppressant. Raspberry Ketones Works as an Efficient Weight Loss Supplement when it combined with balanced diet and Regular Exercise.
When one does Exercise, it require body to burn extra energy and also burn extra calories, and if you are taking Raspberry Ketones, it burn the Existing Body fat to convert it into Energy which is required for Exercise. As a result one doesn't need extra nutrition to get energy for exercise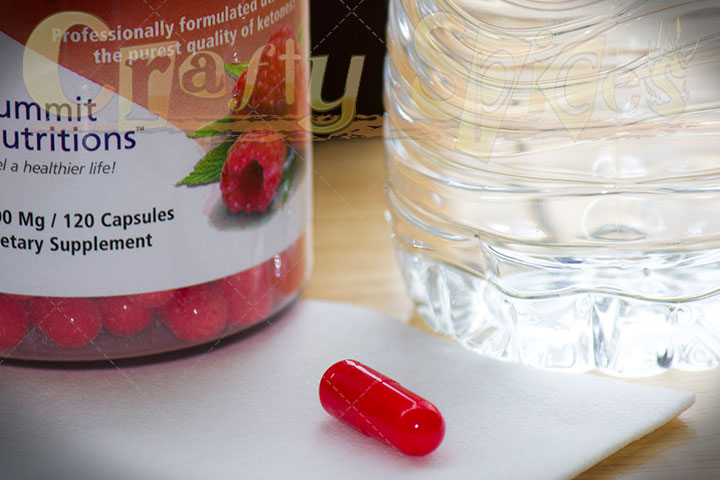 Our Thoughts:
As in any weight loss regiment I would say that plenty of water and even exercise would be beneficial, not to say that it's mandatory but in my mind it goes a very long way in maintaining a good health. Don't get me wrong when I say exercise even walking counts.
Excellent Natural Fat Burner, by taking 1 capsule 3 times per day (not the recomended dose) at about 30min before meal time the effect have been: reduction in appetite (small portions work great). The weight loss has been of about 5 pounds within 2 weeks time. This has been without changing eating habits, no diet or exercise except for walking about 25min per day.
While this product may work for most people, if you have any health problems it is always best to consult with your physician before starting a routine.

Purchasing Information
If you would like to purchase the Pure Raspberry Ketones | Natural Fat Burners, you may buy it
Here
for $24.99 (As of this Post).
{xtypo_sticky}
Disclosure:
I received one or more of the products mentioned above for free using
Tomoson.com
. Regardless, I only recommend products or services I use personally and believe will be good for my readers. For our full disclosure and PR Info
Click Here
.{/xtypo_sticky}