Considering all the things that we have heard about traditional non stick pans, how they are coated with PolyTetraFluoroEthylene (PTFE) and how this can emit fumes and be harmful to our bodies, it's good to have other alternatives that would work in a similar way's without the down sides.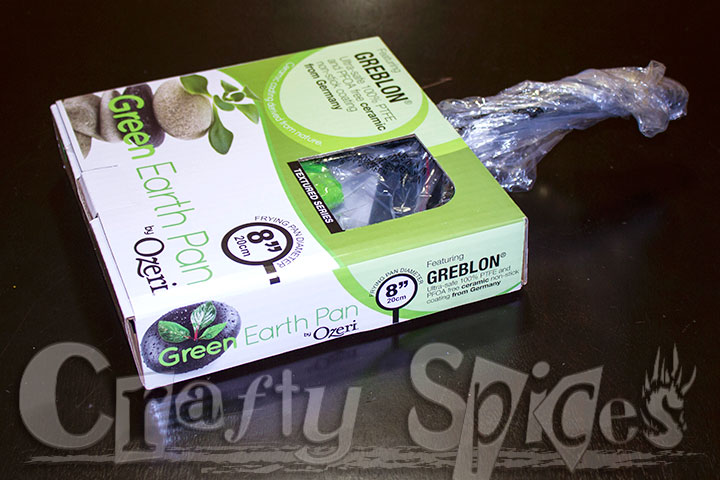 We received the pan!! The first thing that we notice was in fact just as with other Ozeri pans was the well thought and simplistic packaging, we like that they continue to use recyclable cardboard. The pack includes the pan with and easy to peal sticker and the user guide, and a pan size felt to protect the pan all inside a plastic bag hold together with a rubber band and inserted into a recyclable cardboard sleeve.
The Green Earth Pan's are eco-friendly and are constructed in a environmentally conscious way, they have a non-stick surface yet they are made not using PolyTetraFluoroEthylene, instead they use a natural ceramic called Greblon to achieve the same results yet not the same side effects to humans.
Features:
Unlike other ceramic pans,the Ozeri Green Earth Pan utilizes GREBLON - an ultra-safe ceramic coating from Germany which is 100% PTFE and PFOA free.
Innovative textured pan surface delivers enhanced heat distribution and superior non-stick performance without ever releasing harmful fumes or toxins.
Features a scratch-resistant 100 percent ceramic coating that is super easy to clean.
Made out of durable heavy-gauge die-cast aluminum with no heavy metals or harmful chemicals.
Boasts a comfortable heat resistant silicon coated handle and a magnetized induction stove safe base for rapid heat transfer.

Our Experience:
As of today we have used our Green Earth Pan for cooking vegetables, potatoes, eggs and other tasty combination of products and every time we have been very pleased with the pan and it's results. Just as it's description we have notice how this pan allows for even heat distribution reducing the amount of string and flipping and conveniently cooking better meals, the one thing I am not sure is if it actually reduced the time for cooking as it indicates. We like that the handle is heat resistant and silicon coated making it more comfortable on the hand. You can even use this pan in an oven as long as the cooking temperature doesn't exceeds 356F.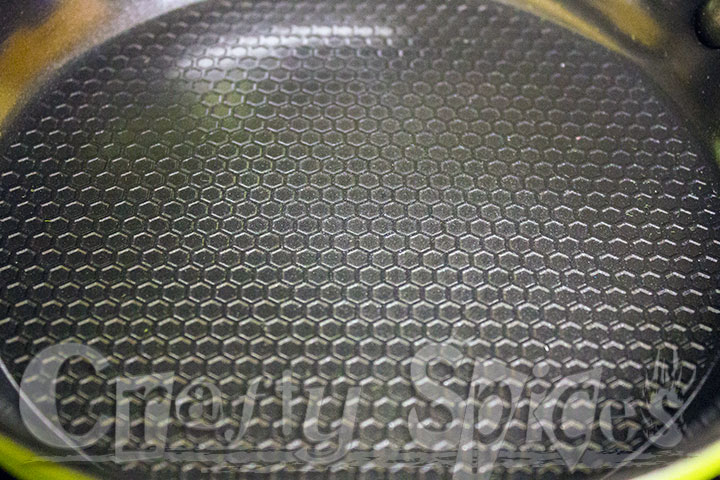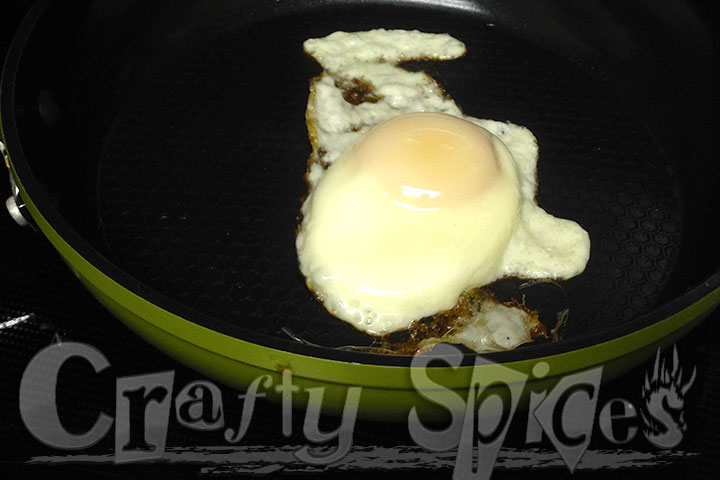 Our favorite feature without a doubt is that it has no chemicals and the no harmful fumes or toxins that would be released while we cook our meals. As an added bonus these pans have the perfect weigh, a nice color and a good overall feel. We like the 2" curved sides, it help when flipping pancakes, French-toast and other meals.
An advantage of using these pans is the reduction in the amount of oil that it's needed to cook or fry, as a matter of fact the recommendations are to use little oil or butter and to stay away from cooking spray as it can break down the non-stick surface, and we are all about less oil.
We recommend cleaning thoroughly after each use to avoid the sticky build up. There are a few ways to clean this pan: • Clean with warm soapy water and a sponge. • Rub a peace of lemon to clean any build up that may be sticking to the pan and then wipe dry. • Lastly you can use baking soda, with a touch of water to make a fairly dry paste and a sponge will safely remove any buildup. We have more than one year with the 12"Pan from Ozeri and so far it is still performing as expected, the non stick surface is working well, and there are no signs of pealing or damage to the pan. For this reasons we expected the same result from the 8" Pan.
My final Thoughts: In overall I think this is a nice, good-looking pan made using no chemicals. It is non-stick and does not release fumes or harmful toxins to the environment and/or into our foods. Works without or with little oil and it can be used to cook just about anything. And as an added bonus you can even place it into the oven.

The Company and Purchasing Information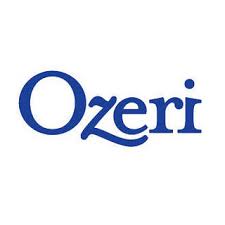 "Ozeri is a specialty manufacturer of digital lifestyle products for the modern home. Ozeri began as a supplier to the destination club market. This market spans vacation residences in the destination club industry, fractional residences, timeshares, and condo hotel apartments.
The Green Pan line is only one of the many products that Ozeri offers. You may learn more about the company and it's products by visiting there WebSite
To purchase the Green Pan go HERE
{xtypo_sticky}
Disclosure:
No monetary compensation was given for this post. I received a product to facilitate this review. All opinions are 100% my own and may not reflect those of others or yourself. All entries will be verified. For our full disclosure and PR Info
Click Here
.{/xtypo_sticky}