This Mocktail is simple, and very easy to make it's a blend of Zevia Cream Soda, Mango, and Cranberry; great for any occasion. Not to mention it's the perfect color and taste for Thanksgiving which is just a few days away.
Ready in:
5 minutes
| Serves:
1
| Complexity:
Very Easy
Ingredients
1/4 cup Zevia Cream Soda

1/8 cup Mango Juice

1/8 cup Cranberry Juice
5 or 6 Ice cubes

Slice of Mango for garnishing

tiny cube mango pieces (Optional)
Directions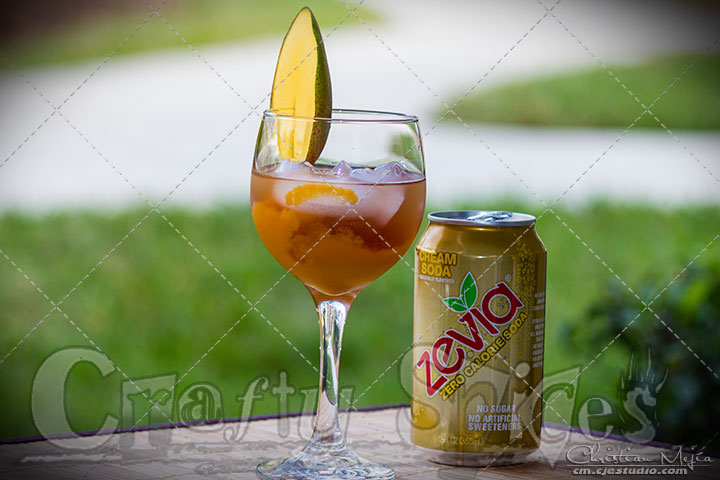 Place ice cubes into a glass of your preference

Add Mango juice

then Zevia Cream Soda

lastly add the crambery juice.

garnish with a sliced of mango and you may top with tiny cube mango pieces

hand out to your guests immediately
That's our
Thanksgiving Zevia Mocktail (Cream Soda, Mango and Cramberry Juice)

Learning Time

Fun educational activities or questions to do with little ones while preparing this recipe.
Talk to your little ones about Mango, a tropical fruit mostly eaten ripe but while not common it can be eaten green some people like to add salt. It's also used for pickles and chutneys.
Have your children tell you the color and shape of the mango, then have them compare it with other fruits that you may have in your house.
We take this opportunity to talk about soda and how most sodas are not that great healthy wise for our bodies, how the content of sugar and artificial ingredients can affect us.
Since we are using Juices I explain to Kira (our 4 year old) the basic process for making juice, and how it comes from the same fruit that we eat.
Make learning an everyday fun activity.
Enjoy and have fun!!