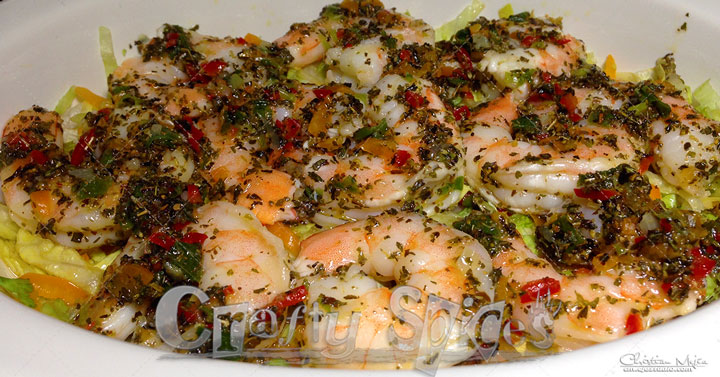 In our house we all love shrimps and we enjoy eating them in a variety of ways. Knowing that Shrimps can be a good source of antioxidants and also studies have found that eating shrimp may decreased risk of a number of diseases.
Written by:

Crafty Spices

Hits: 5609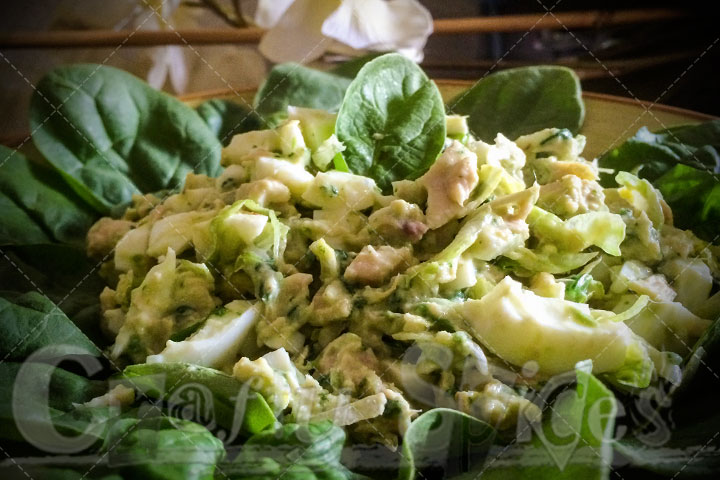 Sometimes we may not be in the mood of cooking a large or heavy meal, knowing that we can make something healthy and delicious in just a few minutes is a great feeling. This salad can be adjusted as per the ingredients at hand, trust me I have changed it around a number of times and no matter what, there are never leftovers to put away.
Written by:

Crafty Spices

Hits: 8202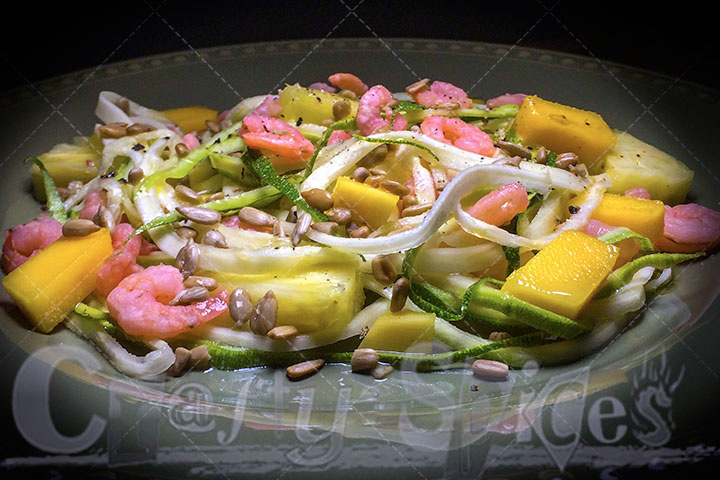 We all have heard it a million time, "eat your fruits and vegetables". Doing so does not have to be boring or a complicated task, in fact we all can better enjoy our fruits and vegetables if we make food fun for the entire family.
This recipe includes fruits and vegetable, and our entire family likes to help prepare it and then loves to eating it, there are never leftover.
Written by:

Crafty Spices

Hits: 6760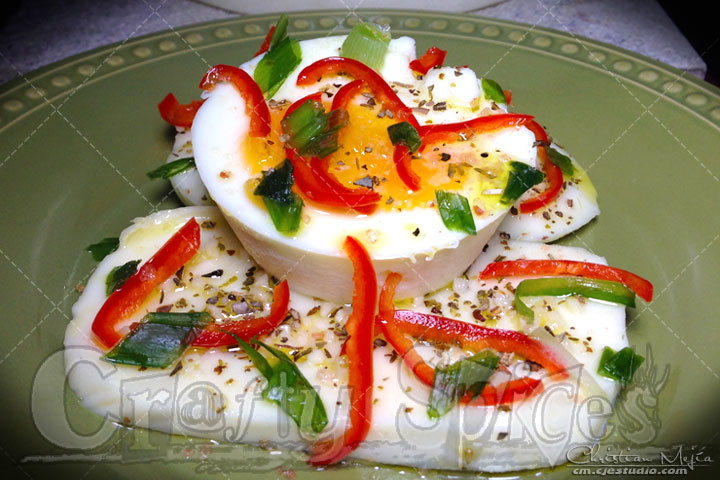 Here is yet another twist to the well known Caprese Salad, some would say it's not a caprese without the tomatoes but I beg to differ.
For me it's the concept and the taste that make a dish, and today's dish has plenty in common with the traditional caprese salad, so way not call it a caprese with a twist.
Written by:

Crafty Spices

Hits: 5751
Join in as 8 bloggers come together and share with you a progressive dinner, online style. Each blog will "host" a course, and share with you a favorite recipe for the holiday season. This dinner is being hosted by:
We are looking forward to serving you! All you need to do is follow along the blogs, and you'll get a full course meal to bring in your holiday season! Thanks for joining us and being our guest!
Written by:

Crafty Spices

Hits: 12148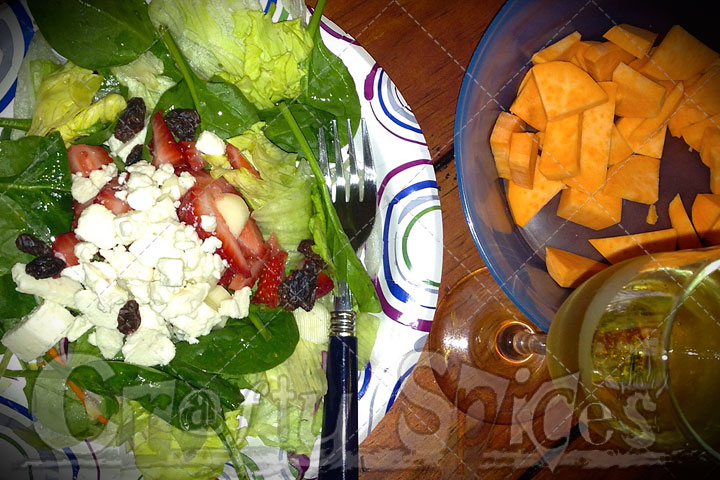 I just had to share this with you all. One night while our Friend Monika was here and as we watch "I can't remember what" on TV we decided to have salad for dinner. I have to say it turned out pretty good.

But that was not all we had, we accompanied the salad with a delightful glass of wine and had some "sweet potato bites" for dessert.

It was a great dinner, and then we had more wine... Not sure at what time we went to bed.
Written by:

Crafty Spices

Hits: 5485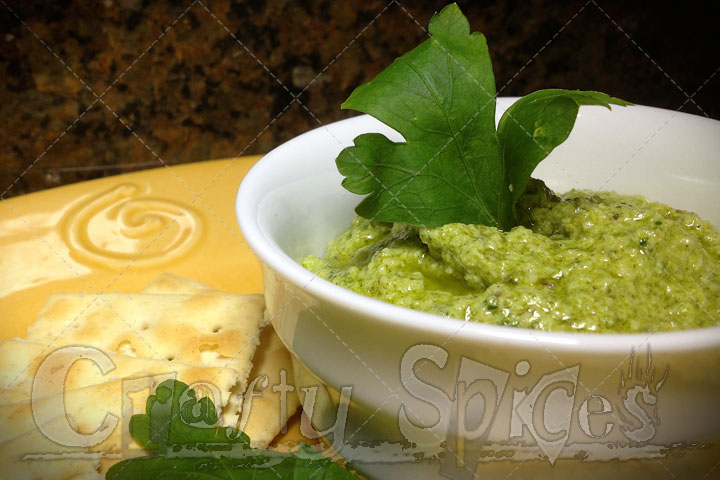 A fast and simple way to delight yourself, family or friends.

A nice combination of Cream cheese, herbs and a few extras, turns out to be a great and tasty multi-use spread. Today we are featuring it in 2 different types of rolls and spread over some crackers.
Written by:

Crafty Spices

Hits: 5614
Easy and refreshing mango pasta salad!

We like to enjoy our main meal with a side salad but not always the same traditional lettuce and tomatoes salad, this is one of the great variation that we have done.
Written by:

Crafty Spices

Hits: 6099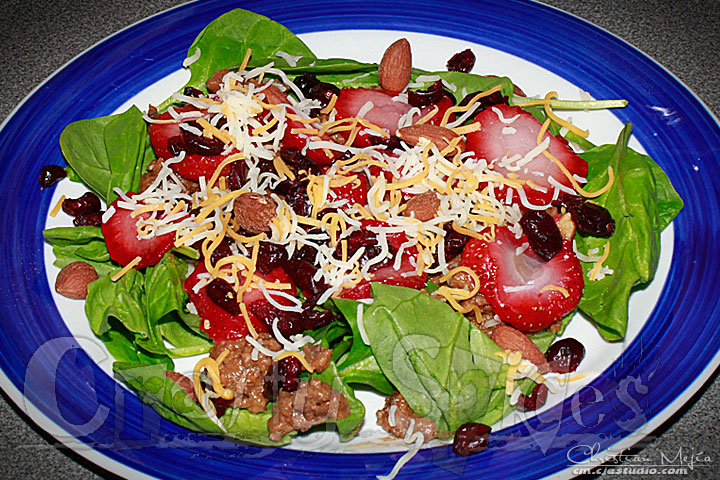 Yesterday I was really not in the mood of cooking, luckily we always have fruits and some type of salad. We had some leftover ground beef so I decided that we all would eat a mix salad. Here is what we did.

Sometimes is best to go with the flow and work with what you have and what you feel like.

Here is what we did.
Written by:

Crafty Spices

Hits: 6341