In this particular recipe just like many Dominicans we are putting our own twist to it base on our mood and on the ingredients on hand.
Ready in:
50 Min (10m prep, 40m cook)
| Serves:
4 - 6
| Complexity:
Medium
Ingredients
1 1lb Sausage
1/2 cup Green Olives
3 Cloves of Garlic
1 can Green Pigeon Peas with Coconut (Gandules con Coco)
1 Red Bell Pepper
1 Green Bell Pepper
1 Sazon Goya with culantro and Achiote (Find it in the Latin department)
1/4 cup fresh cilantro
1 Small Onion
1/4 cup fresh parsley
4 cups Long Grain Rice
6 cups of water
2 tbsp Olive Oil
1 tsp Oregano
1 tsp Salt
2 carrots (Chopped)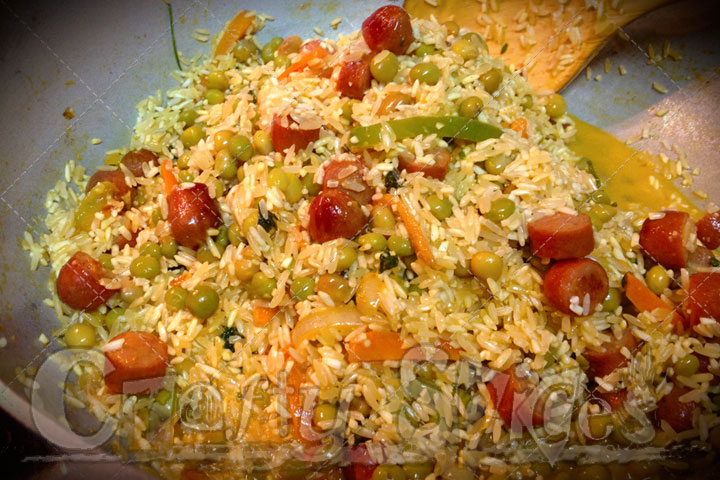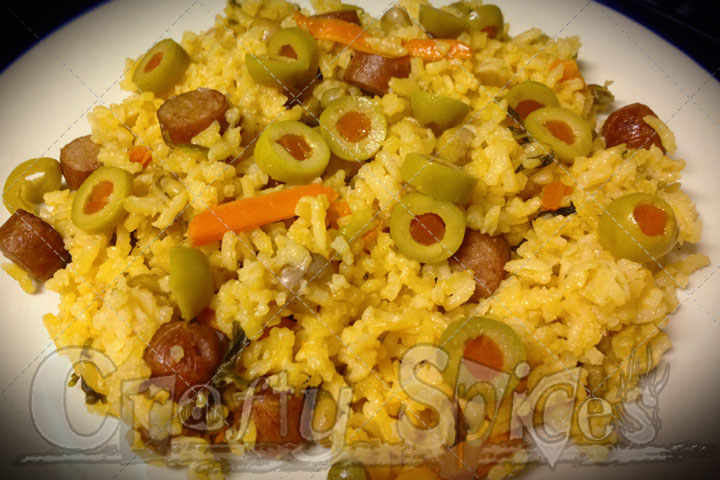 Directions
In a large cast iron pot (or Caldero) over high heat, add oil when it's hot add sausage, onions and carrots .
After a few minutes add chopped garlic, green peppers and Sazon Goya, cook for about 3 minutes.
Meanwhile wash rice about 2 or 3 water rinses should do it, let it rinse
Stir and add remaining ingredients with the exception of olives, water and rice.
Mix all together in the pot. At this point there are 2 ways to do it: you may add the water and wait for it to start boiling to add rice, or you may add rice stir and sate for 2 minutes then add water and let it cook. for both options you should stir here and there, then let the rice absorb most of the water.
Cover and reduce the heat to low, let the rice cook for about 25 to 30 minutes covered then open lid and stir all together, add olives, cover again and leave it on low heat for another 5 to 10 minutes.
Serve as is or with salad and Tostones .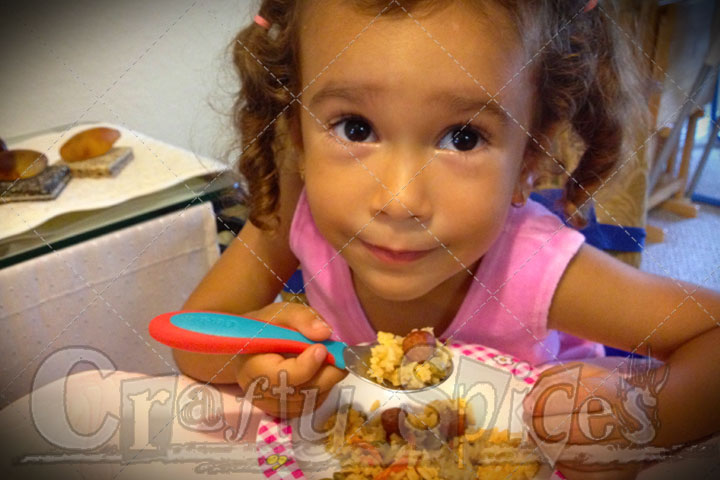 Enjoy!