I know that most of us bake or buy sweet pies during this time of the year, this is why We actually went on a limb here and instead of baking and featuring a sweet pie we decided to present to you a savory one. Hope that you give it a try and love it as much as we do.
12 Sweets of Christmas!
Each week, we will be featuring a different Holiday Feature that will help make your Holidays Sweet! Hosted by:
This week we are Baking Pies!
Link up your Homemade Pie Recipe and let's get this Christmas Season all tied up!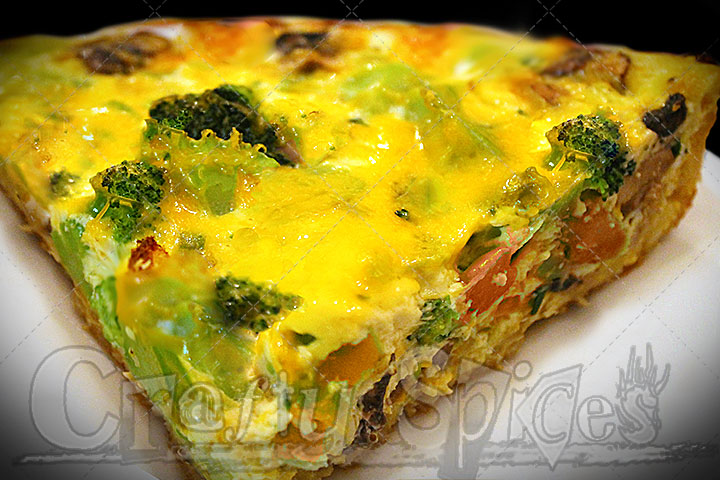 Ingredients
2 cups broccoli florets

2 teaspoons extra virgin olive oil (EVOO)

1/2 green bell pepper

1/2 red bell pepper (Optional)

1/2 orange bell pepper (Optional)

1/4 Cup chopped green onion, chopped

4 large eggs

1 1/4 cups 1% milk

1/4 tsp salt

1/4 tsp black pepper (Optional)

5 slices bacon

2 tbsp breadcrumbs

1 tbsp butter

3/4 Cup cubed cheddar cheese

1/4 Cup shredded cheese for topping
Directions
Preheat oven to 350 degrees Fahrenheit (180 C)

Put broccoli to steam for about 4 to 5 minutes.

Meanwhile butter a 9 to 10 inch pie pan and add bread crumbs, pressing them down and to the sides to create the base. Set aside

Remove broccoli from pot and place in some cold water until manageable with your hands. Cut florets to a maximum of 1/2" pieces.

Place a skillet over medium to high heat with some EVOO, add all peppers, bacon, green onions, cook until peppers are soft and bacon seems cooked, reduce heat if needed and stir to avoid bacon sticking

In a separate bowl combine milk, eggs, salt, pepper, and cubed bread

Now combine broccoli with bacon mixture and milk mixture. Add cubed cheese.

Pour all of it in the previously buttered pie pan, top with shredded cheese and place in the preheated oven for about 40 minutes.

Let cool down a bit before cutting and serving.
Enjoy!!
Merry Christmas!!