We made this as mini pancakes but they can also be done as full size pancakes (they are great both ways), we just enjoy the mini and they can be party snacks.
Ready in:
30 Min (10 Prep 20 Cook)
| Complexity:
Easy
Ingredients
1 cup fresh blueberries + 1 cup for topping
1 tbsp. sugar
1 1/3 c. whole wheat flour
1/4 tsp. salt
1 1/3 cup unsweetened Almond milk
1 egg
1 tbsp. vegetable oil
2 tsp. baking powder
1 tsp vanilla extract
Cream Cheese
Strawberry Jam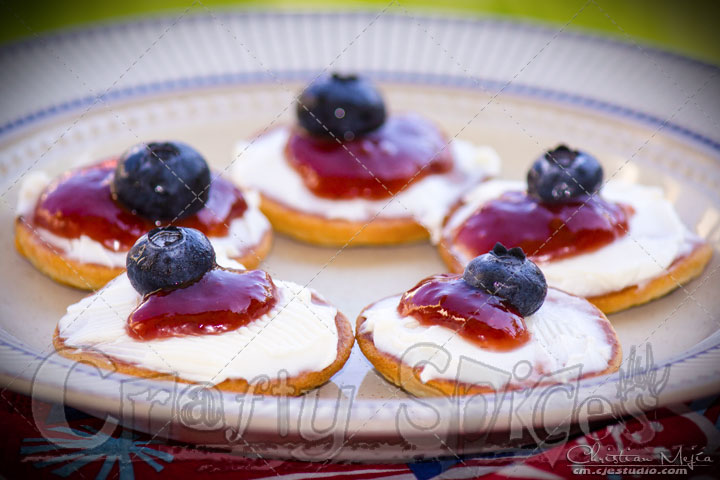 Directions
Mix together the salt, flour, and baking powder.
Beat the egg just lightly.
Combine all wet ingredients (egg, almond milk, and vanilla extract)
Add dry ingredients, mix until smooth.
Stir in blueberries.
Grease a nonstick pan with cooking spray and heat on medium.
Pour batter onto pan, since we are doing mini pancakes we use a +/- 2 tbsp per unit, spacing them at about 2 inches apart.
Cook on one side for about 2 minutes and flip over to cook for another 2 minutes on the other side.
Pancakes should be nice and golden.
Spread cream cheese, strawberry jam and a blueberry on top.
Repeat to each of the pancakes and you will have a beautiful plate with Patriotic Mini Pancakes.