We are so excited to be a part of this Thanksgiving Progressive Dinner and featuring our Healthy Salad with Spinach Mangoes, Sweet Potatoes, and tasty flavors.
Ready in:
20 minutes (12 Prep + 8 Bake)
| Serves:
2 - 4
| Complexity:
Easy
Ingredients
4 Cups of Spinach

2 tsp Freshly grounded Pink Salt

4 tbsp Extra Virgin Olive Oil (EVOO)

2 Mangoes (one ripen and one half way)

1 Sweet potatoes

1 Cup dried cramberies

1 Cup Sliced Almonds

3/4 Cup Feta Cheese
Directions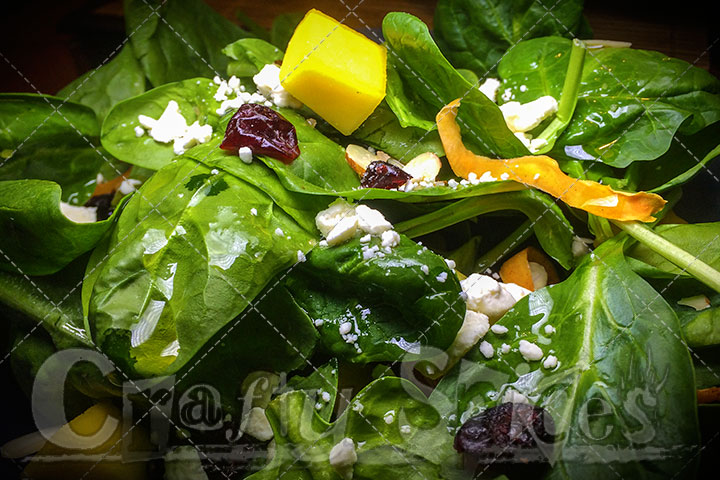 Preheat oven to 350 degrees Fahrenheit (180 C)

Rince and air dry spinach

Meanwhile, Cut and cube mangoes. Set aside

Wash and peel sweet potato, then make very thin slices using a potato peeler. (some call it peeling)

Place sweet potato slices in a baking pan and into the oven for about 8 minutes. Remove from oven and set aside

Place spinach in a large serving bowl.

Add all ingredients except almonds, EVOO and feta cheese

Slitly fold in, mixing all ingredients together.

Serve and lastly add Feta cheese and almonds

Alternative Serving Option:

Separate individual larger spinish leaves. Mix all ingredients except spinich, then plate large spinach and serve salad over each leaf. (See picture below, makes a great presentation)
This is it for our healthy:
Thanksgiving Salad with spinach, mangoes and sweet potato.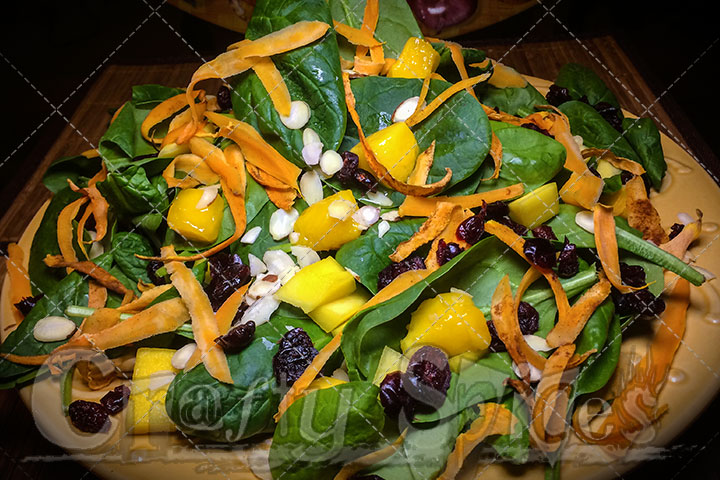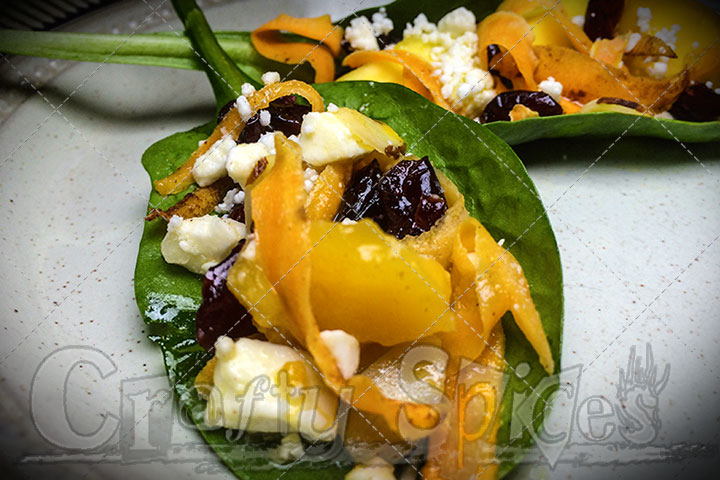 Learning Time

Fun educational activities or questions to do with little ones while preparing this recipe.
When ever we are making a meal or anything for that matter in celebration of a holiday we explain to the little ones the meaning of the holiday and why we celebrate it.
Since this salad is for a Thanksgiving dinner we also made it while giving thanks for every ingredient that we included.
Talking to children about the benefits of certain foods while making a meal is a great way to get them involve and interested.
No only individual ingredients are good but in this case talking about why we eat salad.
Spinich is a leave but not all leave can be eaten, this is very impotant to clarify to little ones.
Learning can be a great experience, don't pass an opportunity.
Enjoy and don't forget to have Fun!!