So I did. Base on her ingredients and a few twists I made this recipe, after cooling it in the fridge I tried it and I was like: this is good yet "Far from being cheesecake", the interesting thing is that the day after I had more and now it did taste more like cheesecake. So I decided to make shots for a gathering and they were a hit.
Ready in:
40 Minutes (10 Prep - 30 Fridge)
| Serves:
10 - 12
| Complexity:
Very Easy
Ingredients
1 pack of cream cheese at room temp. (8 oz)
1/2 cup and 1 tbsp sugar
2 tablespoons milk (any fat content)
2 cups cool whip, or freshly whipped cream
2 teaspoons fresh lemon juice
1 1/2 cups graham cracker crumbs
1/3 cup butter, melted
2 cup freshly chopped strawberries
3 mint leaves (Optional)
Red sugar crystals (Optional)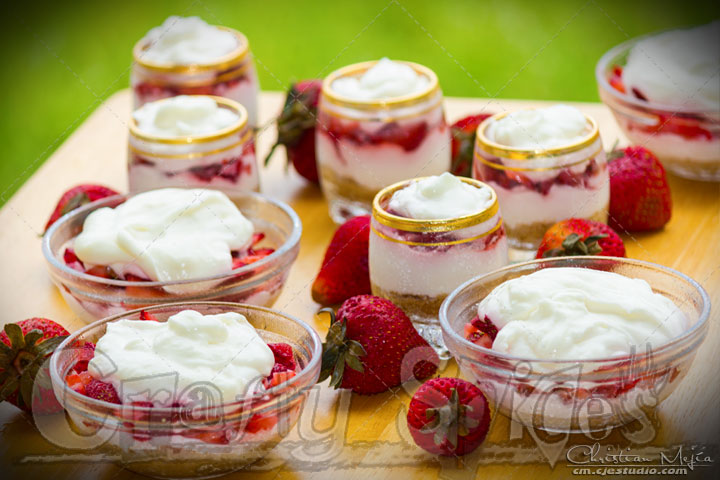 Directions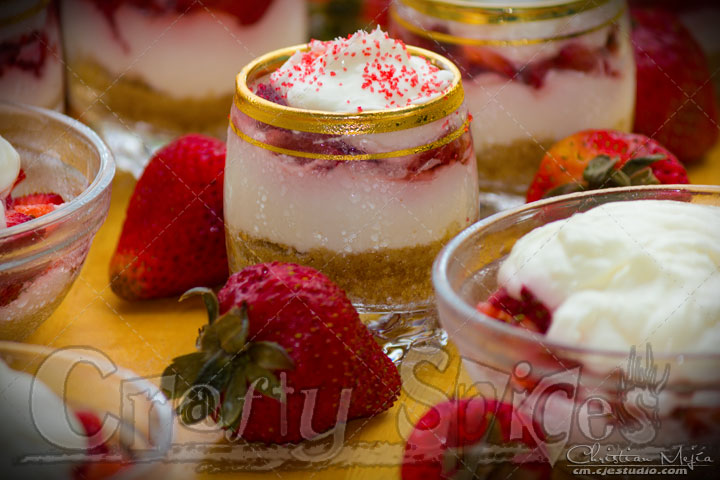 Crush graham crackers (I use blender), then combine with melted butter and tbsp of sugar. Set aside
Combine freshly chopped strawberries with mint leaves. Set aside
In a bowl smooth cream cheese, mix with sugar
Add lemon juice and mix until fully incorporated.
Add milk, and mix together.
Then fold in whipped cream.
Take one shot glass, add 1 tbsp of graham cracker mixture and press down, add a tbsp or 2 of cream-cheese mixture (depending on the depth of your shot glass), add about one tbsp of strawberries and top with more cream-cheese mixture
If desire add red sugar crystals.
Place in refrigerator for a min of 30minutes.
Enjoy...

Our little taster could not wait to get her hands (mouth) on them.